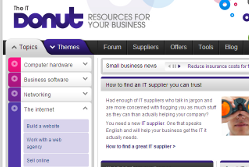 After a lot of hard work, more than a few donuts consumed, and assistance from a whole bunch of helpful experts, we're really pleased to announce that the IT Donut has launched.
We're really excited about getting our new site out in the world, so head on over to http://www.itdonut.co.uk to get your fix of IT advice and information for small businesses.
What do you think?
To use a bit of IT jargon, the IT Donut is currently version 1.0. We're pleased with it, but we're still looking for feedback and help so we can make it even better.
If you have any comments on the information the site contains, or how it looks and functions, send a quick email to [email protected]. Alternatively, leave a comment on the website to tell us what you think.
Be one of our experts
We're also working hard to expand the information on the IT Donut. To do this, we're recruiting IT experts to help us.
If you're knowledgeable about any area of IT, we'd love to hear from you. Again, just send an email to [email protected] and we'll see how we can get you involved. In return you'll get exposure on the site, plus the warm feeling that comes from knowing you've helped out lots of small businesses.
John McGarvey, IT Donut editor