October 04, 2013 - Rachel Miller
"Phone phobia" growing problem in digital age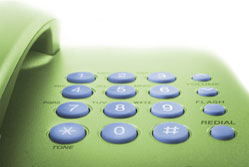 28% of employees say that telephone communication makes them nervous, rising to almost 40% among 18-24 year-olds. And one in twenty of these young workers claims that talking on the phone actually "terrifies" them.
A survey of 2,500 office workers, conducted by Jurys Inn Hotels and CrossCountry trains, has revealed that employees are increasingly using email for almost every interaction – even where a face-to-face meeting or phone call would be more appropriate. The research finds that 94% say they prefer email communication to using the telephone.
The study shows that 20% of office workers would now consider handing in their notice via email rather than face-to-face. A further 14% would ask for a pay rise over email and almost a quarter would complain about another member of staff in this way. In addition, 16% of women would inform their employer of a pregnancy via email.
However, many workers still favour a more direct approach, according to the research – with almost two thirds preferring to be informed of a pay rise face-to-face, and 43% saying they would rather hear about important company news in person rather than via email.
Marc Webster, head of sales at Jurys Inn, said: "As we all become more reliant on technology, our survey results showed clear signs that email, particularly for the younger generation, has replaced face-to-face communication in the workplace."
The survey also highlights the potential pitfalls of over-reliance on email.
One fifth of office workers have experienced a colleague using email to take credit for something they did and 16% have noticed a colleague using email to show them up in a negative light.
Too much use of email can impact on business efficiency, according to communications expert Professor Tom Jackson, director of the Centre for Information Management at Loughborough University. He said: "This research further highlights the fact that the way employees are using email to communicate is far from efficient. In fact, 68% of employees said the emails they receive are sometimes difficult to decipher – whether it be a misinterpreted tone or rushed explanations – and could be resolved much more efficiently via telephone or face-to-face."
Related resources: