October 04, 2013 - Rachel Miller
Cameron: profit and tax cuts not "dirty words"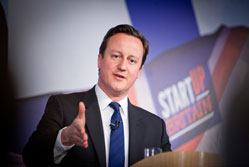 David Cameron has reiterated his commitment to UK businesses at this week's Conservative Party Conference. However, although he declared that "profit, wealth creation, tax cuts, enterprise" were not "dirty words", the Institute of Directors called for Cameron to deliver more tax cuts.
Simon Walker, IoD director general, said: "If tax cuts aren't dirty, let's have a few more of them. If profit isn't elitist, let's allow businesses to keep a little more of it. Governments must accept that to reduce the tax burden and unleash business they have to shrink the size of the state. Downsizing the state will supersize the economy."
Other business groups welcomed the prime minister's stance but called for more support for UK businesses. John Longworth, director general of the British Chambers of Commerce (BCC), said: "David Cameron has set out a clear vision, but the harder task of making it happen still lies ahead. The government cannot afford to become complacent, and must focus on creating an environment that supports enterprise, and puts economic growth at its heart."
Phil Orford, chief executive at the Forum of Private Business (FPB), said:
"The prime minister's speech today was high on ideology and low on new policy but unequivocal in backing business and entrepreneurs. All businesses were thanked for toughing it through the recession. It is true to say that many businesses have had to focus on survival not growth during those years. What they need from the PM is further simplification of regulations and further support for the 'new' squeezed middle, the many small businesses that populate the high streets."
John Allan, national chairman of the Federation of Small Businesses (FSB), said: "There is still further to go. While our members report increasing optimism, rising turnover and exports, the focus must be on repairing our public finances, getting finance to all businesses, and creating an apprenticeships system that delivers the workers small firms need to grow their business."
Image: bisgovuk on Flickr
Related resources: