January 17, 2014 - Rachel Miller
One in five retail sales now made online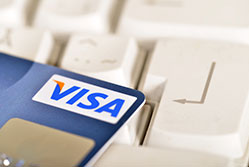 The Christmas retail sales figures are in, and they show a marked shift towards online and mobile commerce, with online now accounting for almost one in five sales.
Data from the British Retail Consortium (BRC) reveals that online sales of non-food products in the UK grew 19.2% in December compared to a year earlier, the highest growth in four years. And an estimated £300,000 was spent every minute online on Cyber Monday 2013.
Overall, UK retail sales were up 0.4% on a like-for-like basis from December 2012, when they had increased 0.3% on the preceding year. However, across 2013 sales were up 1.8%, against a 1.5% increase in December 2012.
Helen Dickinson, BRC director general, said: "This is in line with our prediction that Christmas trading in 2013 would reflect that while confidence levels were higher than the previous year, this wasn't always matched by more money in pockets."
"Multi-channel is the other big story of the season," she said. "This Christmas we've seen innovative retailers using click and collect and other approaches to make a virtue of both their website and their physical shops. And that's something we see growing in importance."
David McCorquodale, head of retail at KPMG, said: "December 2013 was all about nerve, margin and multi-channel. Those retailers who held their nerve and provided a seamless service between channels will feel pleased, whilst those who discounted heavily to force sales will count the cost in margin."
He added: "Online sales surged in December representing almost one in five items sold, proving that retail sales growth is being driven by the click of a mouse, rather than the ring of the tills."
However, more online sales means more returns after Christmas, warns Heikki Haldre, CEO of virtual fitting room provider Fits.me: "The terrific growth of online sales reinforces the importance to retailers of getting their online strategy right. Most businesses will neither have experienced nor been able to account for all the returns they're going to see. In reality, retailers are unlikely to know the true success of their Christmas trading until February."
Related resources: