July 06, 2012 - imanuelv
Peter Jones launches enterprise competition in schools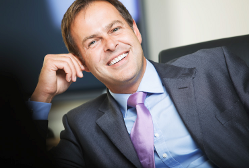 Tycoon in Schools is a new competition for schoolchildren that will launch in November 2012. Backed by Peter Jones CBE, of Dragons' Den, the initiative aims to inspire the UK's young people to start their own businesses.
Jones is investing £100,000 of his own cash so that money can be loaned to schools to help young people launch their own ventures. Pupils will be invited to pitch their business ideas to their tutor for seed funding.
From 1 November 2012, participating students will have one month to start a business, make a profit and realise their entrepreneurial ambitions. They will be given a Tycoon Loan to help them get their business idea off the ground and will be challenged to make as much profit as they can within the month.
The initiative has been designed to enable students to learn by doing, while picking up valuable business and life skills along the way.
At the close of the competition, students will repay their original loans to the Tycoon Bank, and remaining profits can be used by the school or donated to local charities.
Budding entrepreneurs will compete for the top spot on the Tycoon League Table. Winners will be unveiled at the end of November.
Peter Jones CBE said: "Enterprise is the missing piece of the jigsaw in schools today. You can't start early enough when it comes to learning about enterprise and through Tycoon in Schools we hope to reach young people of all ages and inspire them to realise their potential.
"This is just the beginning of an exciting new campaign to encourage the next generation of entrepreneurs to go for it. Our aim is to grow the competition each year, involving more schools and young people across the country and inspiring them to live out their entrepreneurial dreams."
Schools can register their interest in the competition by visiting: www.tycooninschools.com