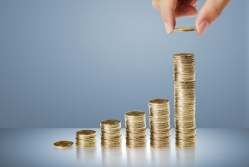 New research has found that almost one in five small business owners is planning to pay more than the statutory minimum into staff workplace pensions when they implement auto enrolment.
Of the 450 SMEs surveyed by NOW: Pensions, 8% say they intend to pay more than the minimum and a further 9% say they will pay the minimum initially, with a view to increasing contributions over time.
Meanwhile, 40% of firms say they will only pay the minimum. Under auto enrolment, employers have to pay at least 1% of an employee's qualifying earnings, rising to 3% by 2018.
Of those that plan to contribute more, 56% think a more generous employer contribution will help attract and retain staff, 43% say that the minimum employer contribution has been set too low, and 39% say it will encourage employees to contribute more than the minimum. Nearly a quarter (24%) of SMEs say they don't offer any other staff benefits so they are happy to spend a bit more on providing a more generous pension.
More than half (54%) of those that intend to contribute more haven't decided how much more they'll put in, while 24% say they intend to contribute 1% more than the legislative minimum – a figure that, over time, could equate to an additional £49,296 in the pension pot of someone on an average UK salary.
Morten Nilsson, CEO of NOW: Pensions said: "The perception is that large firms offer better pension provision than their SME counterparts but this isn't necessarily true. Smaller companies very often know their employees personally and have a more paternalistic attitude. Auto enrolment is a legal obligation but many companies are waking up to the benefits of offering a more generous pension package."
However, many small firms are just trying to make auto enrolment as simple as possible. The survey finds that 41% of those paying the minimum say it is because their focus is on ensuring compliance, 33% say they want to keep things simple and 26% say keeping costs low is a priority.
Related resources: