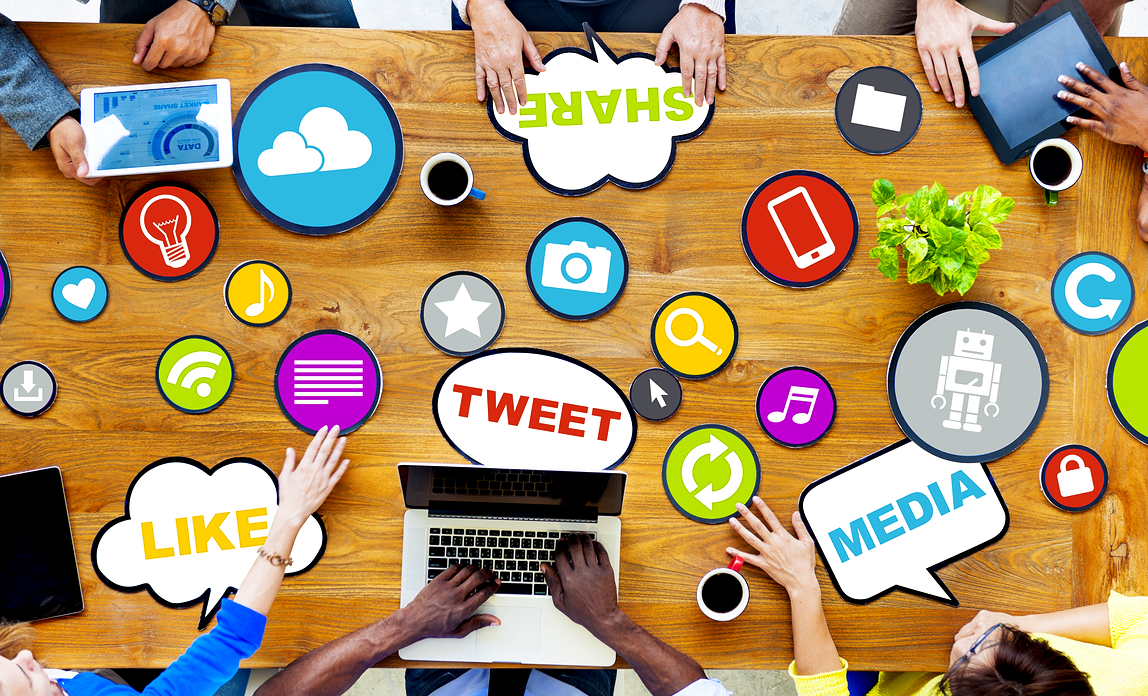 It's only big brands that are active on sites like Facebook and Twitter, right? Absolutely not. Social media levels the playing field and provides small firms with valuable marketing opportunities. So can you afford not to be on social media?
If your business is not active on social media, you're not entirely alone. Statistics show that not every small business has taken the plunge. But those small firms that don't engage in the social sphere are now in the minority and increasingly they risk becoming marginalised.
The fact is that whatever business you are in, no matter what size, no matter how successful, your customers now expect to find you on sites like Facebook, Twitter or LinkedIn. And if you're not there, you are missing out.
Social media behaviour
Today, consumers use social media a part of the browsing and buying process; they communicate with brands via posts and tweets; they want to see what you are up to and find out how others see you; they also want to show their appreciation for what you do in a social space. Granted, they may also want to complain from time to time.
But being invisible is not the answer.
If you are not on social media sites, it looks as though your business is out of the loop. It might even smack of arrogance that you won't give your target audience a chance to engage with you in their preferred space. Above all, it looks as though you are not a serious player.
Some business owners might say that they are doing fine without it. But without the feedback that social media provides, the chances are they have little idea what existing customers think. And they are certainly losing out on potential new business.
Spending time on social media
Perhaps the biggest barrier for many small business owners is time. They just don't think they can fit any more tasks into their day. That's certainly an issue. Social media does require commitment and discipline. However, once you have got started, it can be easy to manage and the rewards will certainly make it worthwhile.
But which sites are right for your business? One thing's for sure; the more social media sites you are on, the more time you'll have to spend managing them. So it's worth starting slowly and building up your presence in a way that fits your business objectives.
So which social media site is best for your business?
Facebook
With 1.5 billion global users in June 2015, the chances are that if you sell to consumers, your customers are on Facebook. There are more than 30 million small firms on Facebook already.
Get started: Facebook guides you through the process of creating a page for your business.
Best practice: Show the human face of your business by being friendly and helpful. Encourage your audience to post content and provide feedback; and deal with complaints promptly. You can measure the impact of your content using Facebook's Page Insights tool.
Key advantages: Facebook allows you to advertise to specific groups based on criteria such as location and demographics.
Best for: Consumer-facing businesses.
LinkedIn
LinkedIn's user base is 380 million professionals globally, including 19 million in the UK. It allows you to promote your credentials and reach potential customers and partners.
Get started: Make the most of LinkedIn by setting up a Company Page.
Best practice: Join special interest groups within your sector. Be careful not to overtly sell; LinkedIn is a forum where you can share content and support others to raise your profile. Encourage contacts to endorse you and provide testimonials.
Key advantages: LinkedIn's Showcase Pages allow you to promote what you do and you can also advertise to targeted groups.
Best for: Professionals, consultants, business-to-business firms.
Twitter
Twitter is widely used by consumers and brands to communicate and make connections. The 316 million users globally send approximately 500 million tweets per day.
Get started: Setting up a Twitter profile is straight-forward. Once you've completed your profile, search for relevant hashtags to find key people.
Best practice: Twitter is a two-way social media tool; so don't just broadcast messages. Listen and respond to others, help out whenever you can and thank those that help you. Use the retweet tool to share posts and "favorite" those that you like.
Key advantages: Trending topics on Twitter often reflect the zeitgeist. By being part of this, businesses can become more connected and engaged with their audience.
Best for: Businesses that want to be part of the conversation.
Pinterest
Pinterest is an image-based social media site with 100 million users globally. It has become a powerful window-shopping tool and is ideal for retail and lifestyle businesses that want to drive referrals and boost sales.
Get started: Pinterest offers guides and videos to help you set up. Then you can start "pinning" images to your boards and encourage others to "repin" them.
Best practice: Create boards that will appeal to your target audience to increase the chance of getting found. Take advantage of Rich Pins to display product information, including price and delivery details, and provide links to your website. Encourage users to pin your images and "repin" other people's images to raise your profile.
Key advantages: Using high-quality images and relevant keywords in descriptions allows smaller firms to stand out and compete against larger competitors.
Best for: Lifestyle and retail businesses.
Instagram
Instagram allows users to share images and short video clips. It's owned by Facebook and has over 300 million users globally. Its popularity among consumers has created a new opportunity for businesses.
Get started: Instagram offers advice and inspiration for businesses. Once you've created a profile you can upload 15-second video clips and images.
Best practice: You can improve the appearance of your clips and images with a range of filters. It's easy to share your Instagram content on other sites and hashtags allow you to promote your content more widely.
Key advantages: Get user endorsement by encouraging customers to upload their own clips and images about your brand.
Best for: Any business that wants an easy way to use video as a promotional tool.
Google+
Google+ had a relatively late start but it's now a major player with 300 million users globally. Because it's Google, it can also help you to stand out in search results.
Get started: Google+ offers a five-step process to get started.
Best practice: Most of the chat on Google+ happens within Communities. These can be public or private; if there isn't a relevant Community for your business you can start one. You can use the What's Hot feature to find out which topics are trending.
Key advantages: Google+'s Circles feature allows you to share content with specific groups.
Best for: Businesses looking to network with targeted groups.
Source: The user statistics in this article were sourced from Statista in September 2015. 
More on this topic: