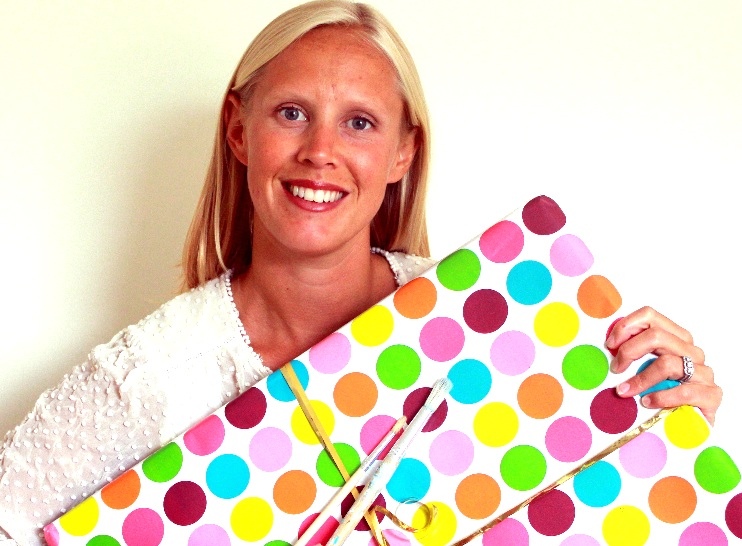 Katie Massie-Taylor worked as a stockbroker for six years, rising up the corporate ladder to become head trader on a currencies desk. Although well paid, the hours were long and she lost touch with the fun-loving person she once was. After becoming pregnant, Katie decided to leave her job and set up Paint me A Present, which enables her to generate an income while enjoying a much better work-life balance
"I always loved art, but ended up following 'the money' into the City to work as a broker. A few years ago I got my paints out and started doing paintings for presents given to friends for weddings and birthdays. I'm not the greatest artist by any means, but people were delighted when they received a painting of something they loved. I thought if the reaction was this good from my heartfelt but amateur effort, imagine how amazing it would be to receive a really good piece of artwork.
"This coincided with my desire to leave my job in the City, which although well paid, meant working very long hours. In addition, my husband and I found out that I was pregnant with our daughter, Tilly, and my job just wasn't conducive to family life.
Market research
"I knew the importance of market research, so I carried out some desk-based research to try to find services that enabled people to commission paintings online.
"The only portrait services I could find were based in China or those offered for a high price by individual artists, but there was no platform that gave customers access to different artists and styles. Moreover, often the pricing wasn't transparent and I wanted to take away the hassle and embarrassment some people feel when approaching an artist for a quote.
"I also surveyed friends and family to see if they would use a service like the one I was planning, and overwhelmingly they said yes. So I put an advert on the University of the Arts London job board, appealing to students and alumni from London's top art colleges for applications from potential artists. I received 200 in one weekend! There are thousands of talented artists in London, and I still invite applications.
"After signing up artists willing to work for me, I had to wait until the website was ready. I did the initial creative brainstorming and produced a thorough plan before approaching various web developers who came by recommendation. There was a huge disparity in pricing – I think I went with the cheapest.
Net start-up costs
"By January 2012 I'd refined my business idea. I commissioned the web developers in April and my site went live in October. I had some savings set aside, which I used to launch my business. My start-up costs were below £6,000, most of which paid for my website, but also design work, flyers and initial marketing.
"Trying to get people to pay for a brand new service from someone they've never heard of is challenging. We also live in a world where people are used to immediacy and ready-made products. My customers would have to be willing to wait for the artwork they've paid for.
"We started making sales and growing organically, first through word of mouth and referrals from friends. I put out flyers at events, including the Affordable Art Fair. When your start-up budget is tight you have to be creative. Many of our sales now come from Twitter and Facebook, as well as press coverage.
American dream
"A while ago I moved to the United States with my husband's job, but I'm lucky enough to have a website that can more or less manage itself, as well as support from a great team in the UK, so sales continue to be healthy.
"In mid-2013, work got underway on a US version of my website. Currently, I'm tackling the law and tax issues here, while acquiring the services of US-based artists. We hope to be trading in the US before Christmas 2013.
"While our current service is geared towards present-giving, there's a huge appetite for affordable art – I mean truly affordable. Our prices start from as low as £50. We plan to tap into the market of people buying bespoke art for their own homes. With a network of talented and enthusiastic artists on board, the possibilities are endless. By the time I'm finished, I hope many more people will have a personalised piece of art in their home."
Katie's three key pieces of advice:
"Produce a business plan. Even if you don't need funding and your plan will only be read by you and a friend/partner, it will help you to set key targets and plan how you'll achieve them."
"Don't over-think it. You risk talking yourself away from good ideas. Have a can-do attitude and take steps to get things done."
"Do your research and find your niche. If you can't name your USP [unique selling proposition], you need to reconsider your business idea."
You might also enjoy: