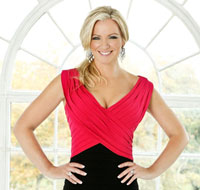 Some famous mumpreneurs and the story of how they made their millions…
Founder and co-owner of the multi-million pound lingerie company Ultimo and past winner of Glamour Magazine woman in business. Michelle was born in 1971 and grew up in Glasgow's East End. With no qualifications she had to leave school at 15 to find a job after illness left her father confined to a wheelchair. She joined Labatt Breweries and rapidly rose from office junior to become senior sales and marketing manager aged just 20-years-old. After being made redundant and having her second child, in October 1996 she set about designing an ultra comfortable yet attractive cleavage-enhancing bra. Soon she formed MJM and patented her Ultimo bra. In August 1999, a month after having her third child, Mone launched Ultimo at Selfridges in London. Michelle remains one of the UK's greatest recent mumpreneur success stories.
The 'Curry Queen' – was born in India in 1956 and moved to the UK in 1975. The mother of two started her business by making Indian food in her kitchen, so disillusioned was she with what was available in her local supermarket. In 1986 Perween founded S&A Foods and was soon supplying chilled and frozen dishes to Asda and Morrisons. To keep pace with demand, S&A Foods had to build a factory in Derby, creating 100-plus jobs. By 1996 the success of S&A meant larger premises were again required. Almost 600 now work for the company in Derby. Perween has been awarded an MBE and CBE and her company now turns over more than £75m.
Annabel was motivated to write books about children's nutrition following the tragic death of her three-month-old first-born, the result of a viral infection. Her first book – The Complete Toddler and Baby Meal Planner (1991) – is a UK cookery book bestseller. Now, more than 35 books on, Annabel is known as the 'Guru of baby care' and partly works as a consultant to large food businesses. She also writes for The Times, The Daily Mail and the Sunday Mirror, Practical Parenting, BBC Good Food and Sainsbury's Magazine. In 2007, in partnership with Sainsbury's, Annabel launched a range of food products for children called Eat Fussy. She also developed a range of equipment for preparing baby food and has launched an app providing recipes and tips for feeding toddlers.
Sarah is perhaps as famous for appearing onscreen pregnant as she is for presenting Channel 4 property shows. Reading-born Sarah studied drama and considered becoming an actress, but ended up working for Save the Children, as well as cleaning windows, selling vacuum cleaners door-to-door and running her own sandwich business. Having saved up a deposit, she began a property developing business with her brother and her husband. She launched Tepilo, an alternative way to buy, sell and let property. She is also the co-founder of popular dating website mysinglefriend.com, a venture she started with her best mate. From her TV work and various entrepreneurial ventures, Sarah has become a widely respected and wealthy business woman, while mother to four young boys.
Gone but not forgotten, Dame Anita remains one of the UK's most successful mumpreneurs (and entrepreneurs). She is best known, of course, for setting up The Body Shop, in 1976, inspired by visiting a shop selling environmentally-minded cosmetics while visiting California. She set her business up virtually from her kitchen table to generate an income for herself and two daughters, Sam (founder of "erotic emporium" Coco de Mer) and Justine, while her husband was in South America. She opened her second shop just six months later. Cosmetics giant L'Oréal is said to have bought The Body Shop for £650m in 2006 and Anita and her husband are reported to have earned £130m from the deal. The Body Shop now has over 2,500 stores in more than 60 countries, making it the world's second-largest cosmetic franchise. Sadly, Anita died in September 2007, aged 64, from Hepatitis C.
A controversial choice, but Katie Price is now believed to have a personal fortune of £45m. Born Katrina Infield in Brighton in 1978, she began doing topless shoots for The Sun aged 18 and later became known for her super-size boob jobs and boozy nocturnal antics. Her romance with Peter Andre turned the former glamour model into a UK tabloid megastar. In May 2004, she wrote Being Jordan – the first of autobiographies. Initially turned down by the mainstream publishing houses after she allegedly demanded a £1m advance, Price signed with a small independent publisher John Blake, a former tabloid journalist, reportedly for £10,000, plus, royalties. It was to prove a highly lucrative decision. As well as appearing in her own reality TV shows and a brief stint as a pop singer, Price has released her own fitness DVDs and is a published author of fiction. She has also launched a babywear range - K P Baby, a lingerie range, a jewelry range and a range equestrian clothing. With an undeniable talent for earning money and courting publicity, Katie also looks after her four children, one of whom, Harvey, is blind and has autism.
You might also enjoy: