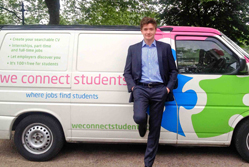 Balancing study and social commitments can be tough enough when you're at university, but many students now start their own business too, either because of the highly competitive jobs market or simply because they want to fulfil entrepreneurial ambitions. One example is Oliver Dickinson, who explains how he set up We Connect Students while in the second year of a Plymouth University degree course
"I'm originally from Lowestoft in Suffolk, but now I live in London. A few years ago I was studying international business at Plymouth University. I never wanted a 'normal' career; I've always preferred the idea of forging my own path.
"The idea of improving things by introducing new ideas has always appealed to me. My business – We Connect Students – enables employers to search a database of tens of thousands of student profiles who closely match their selection criteria."
Market research
"I came up my business idea when friends started applying for internships. Such was the competition for places, they were having to apply for many schemes, which meant employers must have been receiving many awful 'copy-and-paste' applications from people who weren't genuinely interested. I thought, 'if the employer could find students who better matched their needs, the process would become significantly more efficient for both parties'.
"Belief in my idea came because it was just so glaringly obvious there was a problem that needed solving. I tested my business idea for about four months. I developed an 'alpha' version of my website that had basic functionality and registered about 500 students from my business school. Initially, I asked those who registered for feedback on my site.
"Hearing what was rubbish was more important than what was good, because it enabled me to make improvements. By that point, I had even greater belief in my business idea – the problem I then had was how to fund it.
Start-up funding
"I formed We Connect Students in 2010, during my second year of university. I used money I'd made from my previous venture, as well as my student loan, a loan from my mother and my overdraft - quite scary, really. As I recall, one week I had just £3 to live off!
"I then networked my way into an angel investor community and was offered investment by eight sources. While I was considering my options, I received another call and one three-hour phone conversation later I'd planned a trip to London to meet someone who would soon become my business partner and mentor.
"We managed to set up a call with the lawyer that worked for Mark Zuckerberg when Facebook was still thefacebook.com. He advised us on patents, but it soon became clear that the only way to mitigate the risk of competition was to move as quickly as possible and create as many barriers as possible. Raising finance – about £500,000 worth – has enabled us to build an incredibly intuitive, powerful and flexible platform.
Question of balance
"My mother was very supportive of my wish to start my own business while I was at university, plus, I only had 15 hours of lectures each week, so I didn't actually find balancing studying with launching my business that difficult.
"If you have a viable business idea and it won't affect your studies in any bad way, why wait until your course is over? If you have a groundbreaking idea, you risk someone else making a move, which could mean it's too late for you. Also, if you can't find the time to launch your business while only having 15 hours of lectures a week then you're probably not cut out for the long, unsociable hours and hard work that being your own boss involves.
"I don't think I was too young to be an entrepreneur. In truth, I've come across few barriers. And there's no reason why a younger person can't be more successful than someone who is older, providing they have a good idea, work hard and maintain the right attitude and commitment. I also believe that being honest and able to earn trust are crucial in business.
Networking opportunities
"My advice to an undergraduate thinking of starting their own business? Go to relevant activities and events your university hosts. They can be excellent networking opportunities or maybe just a good opportunity to practice your networking skills.
"Get involved in entrepreneurship societies, too. You never know, you might meet good contacts – perhaps even a future business partner. Also try to develop your communication and presentation skills at university – they can come in handy later, for example when you're pitching for investment or new business.
"Be brave. Be direct. When I needed to speak to a senior staff member at university, instead of emailing them, I'd go to their office to speak to them in person. Universities are a hotbed of knowledge, too, but you need to tap into that knowledge."
Oliver's three key pieces of advice
"Don't get hung up on trying to be a 'cool, young entrepreneur' – it's not about that. I've seen start-ups who, as soon as they secure investment, go out and buy such things as ping-pong tables and other trendy items. Focus instead on what you really need to do to establish and grow your business."
"Seriously consider a business partner. Sharing the workload will help you to get more done, probably quicker, too. It's also great to have someone to bounce ideas off and it can prevent you from feeling isolated. I'd also highly recommend finding a mentor."
"Network, network and network some more. Importantly, keep your network happy and do as much as you can to help – but don't always expect something in return."
You might also enjoy: