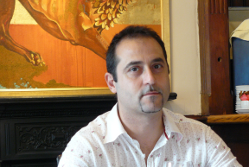 It would be difficult to meet anyone who was more passionate about food or his business than Enzo Baldascino, owner of the King William IV Italian Restaurant and Pizzeria in Ewell Village, near Epsom in Surrey. But passion will only get you so far. Keeping a restaurant afloat during the recession has taken a huge amount of courage, determination and hard graft, as Mark Williams finds out
"I love the restaurant business, it's something I've been involved in since I was 13," says 35-year-old Enzo Baldascino, owner of the King William IV Italian Restaurant and Pizzeria in Ewell Village, Surrey. "If you don't have genuine passion for food and running a restaurant, you'll soon realise you've made a massive mistake. If you love it ― like I do ― nothing is a problem. If you do it because you like the idea of running a restaurant or think you're going to get rich, forget it.
"Owning a restaurant means having to be very hands-on. It takes a lot of hard work, too, but I don't mind. I'll do whatever needs doing ― prep, cook, wait tables, serve drinks, clean up, whatever. I have good staff, too ― that's important."
Overcoming the odds
When establishing a new restaurant, the odds will always be stacked against you. As Baldascino points out, even before the recession, three out of four new restaurants in the UK failed within two years of being started.
He opened the King William IV in 2008, just as the recession was rearing its ugly head. "We completely renovated what was a grotty old pub, but now it's a beautiful restaurant," he enthuses.
During the downturn, Baldascino decided against scrimping to save money, instead believing his restaurant's quality and authenticity would win admirers, ensure customer loyalty and the business's survival.
"It's been incredibly hard and still is," he admits. "We lost 60 per cent of our trade within three months of opening. It's taken us three years just to get back to where we started. We're lucky, though ― many restaurants and small businesses nearby have closed in the past two years."
Boy of Naples
Baldascino was born and brought up in Naples. He recalls a happy childhood, of "beautiful summers spent swimming in the sea". His mother was a nurse who became a housewife after she married and had the first of her four children. Baldascino's father was a tax collector.
"No one in my family owned a restaurant, but I started working in restaurants at 13. I worked my way right up, doing all jobs, from working in the kitchen to waiting tables to chef until ― aged just 18 ― I opened my first restaurant, which I co-owned."
The young Italian invested his earnings in property, and both ventures were successful for five years, but a holiday in England in 1998 changed things. "I came to London and loved it ― straight away — so much so that I wanted to live here. I was 23 years old, went back to Italy, sold my share in the restaurant and headed for London."
He worked in various restaurants for many years. "I needed to know how restaurants were in England. Eventually, I opened my own restaurant with a business partner, but that didn't work out. I decided to do it alone, set up my own restaurant further out of London, targeting a different clientele, a bigger place selling authentic food."
Authenticity, quality and value
Living in England, Baldascino soon realised the importance of the pub and decided he wanted to offer authentic Italian cuisine within a beautiful English pub environment. Although tired-looking, potentially, the King William IV in Ewell Village offered the perfect stage. Completely renovated, its doors opened in 2008.
Usually with disastrous consequences, too many restaurant owners neglect their food by focusing too much on other things. "The food is the most important thing," Baldascino stresses. "It must be high quality. It must be authentic ― that's why my chefs are Italian. Customers must get good value for money, too — which doesn't mean the cheapest prices. I carefully plan everything you experience in my restaurant. I'm a chef and food is my passion. I created the menu. I selected the wine list. Our dishes are created from the finest ingredients. The environment is pleasant and welcoming, people love coming here."
Baldascino jogs every day, enjoys the gym and loves swimming. Time off is rare, but occasionally he visits other restaurants, partly to see how they do things, mostly because he loves good food and wine. "I was brought up on it ― it's who I am." So, what does he think of English food? "I stick to Italian and French cooking," he smiles.
Enzo's three key lessons
"Opening a restaurant isn't for beginners. You've got to know what you're doing and work hard. Very hard."
"Make sure customers get good value for money. If not, they'll go elsewhere."
"Be authentic. Don't try to be something you're not. I'm a chef and I can make okay Chinese food, but I wouldn't dare open a Chinese restaurant."
Do you have a start-up story to tell?
We're looking for small-business owners with an inspiring or unusual story. Please contact us if you or someone you know would make a strong profile for other business owners to read.
Related articles