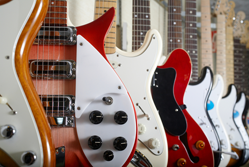 Adam Ewart of online musical instrument retailer Karacha.com explains how he sourced his suppliers when starting his business
"I started Karacha.com in 2005 as a niche supplier of musical instruments to school kids and students. Basically, we offer good quality at affordable prices – guitars, basses, drums, various brass, woodwind and string instruments, plus, stands and other accessories.
"When I started the business, I had a good idea of the instruments I needed to stock. I began by selling sheet music, after buying some stock from a shop that had gone bust in London. I was only dabbling, really. I made a few quid, but wanted to sell instruments, because I could make greater profits.
Taking stock
"I visited other musical instrument businesses near me in Northern Ireland and drew up a list of manufacturers to contact. The problem was – as I found out – none were prepared to supply me. OK, I was young, didn't have any trading history – but a lot of it was down to snobbery. I didn't have a big, fancy shop, so I couldn't display their instruments. Many manufacturers saw online retailers as a bit of a threat at the time, too.
"To get around the problem, I knew someone who owned a corner shop. We put some stuff in there and made it look as if it was a fully functioning musical instrument shop. We managed to convince a few suppliers, so finally I managed to set up accounts with a couple of them.
"Once you get your foot in the door with one, it's easier to attract others. Many will expect trade references, even if you're paying for stock upfront. Many top brands won't sell to you unless you have trade history, because, understandably, they want to safeguard their own reputation.
Meet your maker
"Early on, one supplier suddenly refused to sell to me. They dropped me, just like that. I suspect another music shop applied some pressure, because they thought they were losing sales to my business. This created a problem, because I needed the stock. Fortunately, I found some information in one of the boxes the supplier sent to me, which told me who was making the instruments. I ended up buying the same instruments directly from the manufacturer at half the price, which I then sold under my own brand.
"The more middle-men involved, the more you'll pay, so always try to buy directly from the manufacturer. China, the US, Europe – I now travel great distances to meet manufacturers. Face-to-face meetings are the best way to get good deals. They also give suppliers more confidence in you, because it shows you mean business. It's important to look and act professional when dealing with all suppliers.
Number crunching
"Next to quality, obviously, price is a huge consideration when buying stock. You'll need to add your mark-up to a supplier's price and then consider whether your price is attractive to your customers.
"You must also consider what deals your competitors are getting. Your supplier might be giving them a cheaper deal than yours, which means they'll be able to undercut you. For example, say a supplier offers me £400 RRP saxophones for £200 a piece. That sounds good, but if my competitor is getting the same saxophones for 15 per cent less, which can happen, that will harm my sales.
"You must be tough but fair when negotiating with suppliers. Often you must ask for a better price. Usually, they'll say you must buy more, but successful negotiation isn't just about gaining ground, sometimes you have to concede.
"It takes time to establish good relationships with suppliers, but only then can you expect to get the best deals. It's not always about price either. You might need them to help you out in other ways, perhaps by getting an emergency supply of stock to you quickly if you sell out. Good, personal relationships make these things happen, not threats.
Brand awareness
"My attitude to stocking high-profile brands has changed massively. Now I have very little respect for major brands. You usually end up having to pay through the nose for such products, which means less margin. You also need to remain agile to their tactics.
"Obviously, your customers' buying habits and tastes should guide your choices, but why discount stocking other brands that enable you to make more profit? What's the point of buying in a branded product for £200 and selling it for £250 if you can buy a comparable product for £80 and sell it for £170? In my experience, the more established the brand you're buying, the less margin you make.
"I'd also recommend that businesses consider establishing their own brand and buying directly from manufacturers. Even if that's not for all products, you might be able to do it for some, which could allow your business to be much more profitable."
Adam's three key lessons
Keep things professional, but establish friendly relationships with valued suppliers. Treat them with respect. Pay small suppliers promptly – don't be a burden to their cash flow.
Build up a limited number of suppliers who can give you the products, service and prices you need. If a supplier's performance flags or their prices suddenly increase – explore your options.
Don't expect or accept too much credit from suppliers. Their circumstances can change, which could mean you having to pay them back sooner than you expected. So many music retailers have gone bust recently because of this.
This case study was first published in November 2009.
Browse topics: Start up business ideas