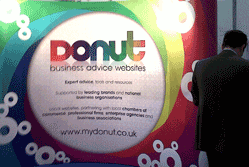 I only found out that I was going to be on the Start Up Donut stand at The Business StartUp Show at Excel a couple of days beforehand so there wasn't much time for the reality of what this meant to sink in.
People kept saying to me that it would be hard work, but I don't think I realised just how hard! I'm not shy when it comes to speaking to people or striking up a conversation and I project manage the Start Up Donut so I felt confident about singing its praises to people running small businesses. But what I didn't realise is that you're talking constantly to a seemingly never-ending stream of people. Don't get me wrong, it's great that we were so busy and I'm really pleased that I got to speak to so many people, but by the time I got on the coach home I was ready to fall asleep.
As a start-up or small business, I'd imagine attending an event like this is well worth the time and effort. With exhibitors ranging from those offering training and motivation to advice on intellectual property to business support there's a huge range of information, resources and potential contacts in one room. Not to mention the array of the seminars and workshops.
The highlight for me, however, was meeting so many different characters. When you work on a project/website every day it is so nice to meet people who have heard of it or visit the website regularly and who have feedback for you, even if it's things you could change or ways to improve the site. I found it really interesting to explain the Start Up Donut (and also the Marketing Donut, Law Donut and the Tech Donut which is due to launch at the end of the Summer) to people who'd never heard of them and to explain all of the features and gauge their reactions.
Next time you go to an exhibition, remember to say hello to the people you've heard of and let them know what you think of their product or service. You might just make their day.
Anna Kirby, Start Up Donut