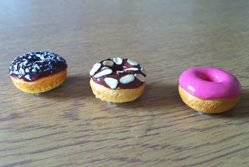 This week we're celebrating the Start Up Donut's first birthday - and what a year it has been! With a new roster of great sponsors, popular content, a much-improved blog and some 30 enterprise agency partners now on board as syndicators, the site continues to go from strength to strength.
My personal highlights are:
Successful use of social media and blogging
Our followers on Twitter continue to grow but, more importantly, we're having more and more conversations with start-ups and more established small businesses. By being able to speak to you directly, we can find out what information is most useful to you and tailor the site accordingly.
We've recently improved our Facebook page, too, so there's more interaction with and between our users. Recently we asked what your favourite things about being a small business are and we got some excellent responses ― come and join the conversation.
A few months ago we integrated our blog into the main site (it used to be hosted on Wordpress), which has fuelled growth in visitor numbers and boosted content on the Start Up Donut. We now have a larger number of blog contributors including many of our experts. We add a new post every day or so, keep checking back regularly to see what's been added. If you've got something you'd like to share or get off your chest then send us your blogs.
A large number of case studies
What better way to learn about starting and running a business than from people who have been there and done it? We've added a large number of case studies covering topics from "How I set up a business in my 50s" to "How I attract customers".
More recently, we've been adding sector-specific studies, which provide a step-by-step account of how to set up everything from a café or restaurant to beauty business.
The Business StartUp Show
In May we took a stand at the Business StartUp Show in Excel, London. It was great to be able to meet our website users and Twitter followers face-to-face, as well as get the opportunity to tell even more people about the Donut project.
"Mumpreneur" week
In the week leading up to Mothers' Day we celebrated mums in business. We discussed the term "mumpreneur", looked at the issues surrounding running a business when you have children and posted a range of interesting guest blog posts. The week was really interesting and we learnt a lot about the different challenges young women face when starting up. My summary blog post captured the highlights.
What have I learnt?
The main thing I've learnt is that a project manager's work is never done! There are always ways to improve the site, different types of article to add, forum posts to reply to, blogs to write and people to speak to on Twitter.
I've also learnt that there is such a vast range of start-ups and small businesses out there that are looking for need-to-know information and advice that can help them to start and run their own business more successfully. Please let us know if there's anything we should be doing to make www.startupdonut.co.uk even better. Here's to the next 12 months.
What's been the biggest lesson you've learnt in the last year? What have your biggest business successes been? Please add your comments.