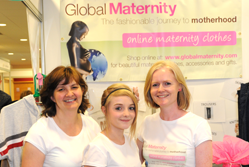 9 June 2009 will always be a memorable date for me.  It was the day I decided to leave behind a 13-year career as a human resources manager, not to mention a good salary, to 'go it alone'.  Scary.
When you look in the mirror every morning and dread the day at work that lies ahead it really is time to consider other options. I'd procrastinated for far too long about starting my own business – I could kick myself for not doing it before I reached 40.
A friend and I spent considerable time researching what sold and what didn't on eBay. We carried out so much research we became more confused than when we had started. I felt as if I was wasting time, while my savings were dwindling. There wasn't an additional household income, so I needed to get my backside into gear quickly. My friend and I were moving at different speeds and in different directions, so I had to have that conversation, but it was important to retain our friendship.
I decided to concentrate on maternity clothes, accessories and gifts. In the planning stages I decided I would still use eBay to sell my products and I hadn't even considered having my own dedicated website. It became apparent very early on that operating my business on eBay was not viable. The cost, in my opinion, is too high. More importantly, the suppliers I wanted to work with wouldn't sell wholesale to me if was using eBay as a sales platform. The concept of Global Maternity was born.
Why maternity clothes? Firstly, I love how pregnant women look. I've been there before (albeit 13 years ago) and the clothes available for pregnant women now are great quality and look beautiful, too. Secondly, the initial financial outlay to launch my business was going to be significantly less than if I opened a general women's fashion store.
My website (www.globalmaternity.com) went live on 1 February 2010. Selecting and buying the stock was enjoyable, but tough. I wanted one of everything, but knew I didn't have the budget. It would be so easy to get carried away, but I had to stop myself a couple of times. Delivering exceptional customer service is my absolute passion, no matter what I am doing. It's what I did as a human resources manager and it's what I do with my business.
It's been a huge learning curve and still is. Global Maternity isn't where I want it to be and I have so many plans, but I'm realistic enough to know it will take time. Above all else, I'm enjoying myself and will never give up.
Louise Boyes, Global Maternity