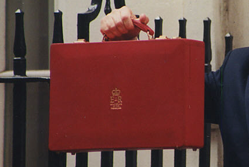 Tomorrow (Wednesday, 23 March) will see George Osborne's second Budget as Chancellor. Whatever measures Osborne reveals tomorrow, they will be announced against a backdrop of slow growth, rising inflation and impending cuts.
Frankly, it's not the best time to be Chancellor. As the latest results from Sage UK's monthly omnibus survey reveal, some 44 per cent of small-business owners are feeling nervous about the impact the Budget will have on their business. Only 5 per cent of the 1,200 survey respondents were optimistic.
So, what are we all worried about? Sage's survey identified increased National Insurance contributions, enterprise zones and bank lending as the key issues bugging small firms. The small business groups are calling for the business tax system to be simplified and red tape to be reduced - and tax and regulation are likely to be the hottest issues tomorrow.
The coalition government itself has promised the most "pro-enterprise" and "business-friendly" Budget in a generation. They've suggested that they're going to ease employment law, cut red tape and reform the planning system, among other things.
But it remains to be seen whether the government can keep small businesses happy. Follow the Budget 2011 live on the Donuts and find out what happens.
Budget 2011 coverage on the Donuts
We'll be tweeting about the Budget throughout the day and inviting your comments and thoughts. Follow us on Twitter.
From 12.15, we'll be blogging live as the Chancellor makes his announcements. You'll be able to join in with your comments and responses. Follow the live Budget blog.
At about 6pm, we'll be posting our Budget round-up for small businesses and the reaction of small firms in our news section. By all means join in with the tweeting and blogging to let us know your thoughts about the Chancellor's announcements.