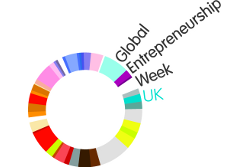 Over 40,000 events, 115 countries and 10 million people taking part – as business events go, Global Entrepreneurship Week ranks a little bit higher than a sad ham roll and a warm pint at your local Rotary Networking Soiree. And it has government backing: - at Monday's launch, Business and Enterprise Minister Mark Prisk said:
"Up and down the country, dynamic entrepreneurs are creating jobs and driving sustainable economic growth. It is vital that we do all we can to help them realise their ambitions and transform the economies of their communities.
"We know that events like Global Entrepreneurship Week can transform people's appetite for enterprise. We want to help people develop the knowledge and confidence they need to pursue their dreams."
We're officially impressed - but how can GEW help your business?
See business winners at work
There's a lot more to the week than huge statistics and ministerial speeches. Keenly aware that only five per cent of people in the UK start their own business, GEW exists to encourage entrepreneurs to make the break and set up on their own, and to give really practical help to small firms.
From 14-18 November, the UK sees the brightest and best of its business talent offering you talks, exhibitions, seminars and networking events daily, as well as competitions with properly worthwhile prizes.
Highlights In England include investment shows, free training workshops on essential skills such as phone sales, Apprentice winners sharing their expertise, and online trading masterclasses trading from ebay and PayPal directors.
Find local training and networking
A lot of GEW events are free, or under £10, and thanks to the determinedly local bias, take place all over the country, with hundreds of organisations holding every type of event, from creative ideas workshops to HMRC officers giving advice to start ups.
Find the event that you - or your staff – could use on the GEW online search for activities in your area. You can filter by type of help that you need – eg sales techniques or tax advice – as well as by date and location. Or just browse for useful new local leads – Ladies who Latte, the women's networking group, is holding coffee mornings throughout the South to welcome new entrepreneurs. And this year, special focus goes to young people who want to start, or at least understand, what running a business means, so check what's happening at local schools too.