For certain industries, it's worth considering advertising solely on mobile phones using an AdWords campaign. Examples where we have seen a lot of success for mobile phone advertising include:
Locksmiths
Electricians
Plumbers
Other emergency call out services
However we've also seen success for many other services where you wouldn't traditionally expect mobile phone advertising to be so successful including:
Jazz band hire
Payroll services
Facebook Marketing
And many others!
The trend looks set to continue and people are traditionally carrying out more and more searches then converting using their mobile phone (either calling directly or filling in a form online), so it makes sense to make the most of this potential market.
On new generation mobile phones such as an iPhone, the AdWords adverts take up over ½ half of the screen for the top 2 ads, so it makes sense to make sure your ads appear in this top spot.
Another advantage is that traditionally clicks are cheaper from mobile phones as there are fewer advertisers – great news!
So how do you go about setting up a mobile campaign?
When creating a campaign in Google AdWords open the settings tab and look for the column marked Devices. Click the word All and the settings screen will open.

Now select Let me Choose and make sure that only Mobile Devices with full Browsers is selected.  This will ensure your campaign runs ONLY on mobile phones, not on PCs, Ipads etc.
Click the Save button.
Now make sure you enter a telephone number by clicking the Ad Extensions tab (if you can't see it click the Drop down arrow next to the tabs and select Ad Extensions)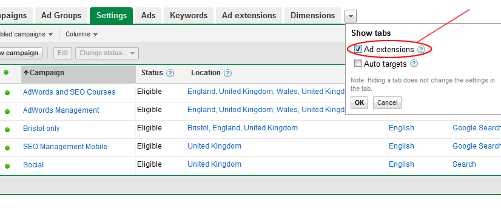 Now click the Ad Extensions tab, click New Extension and enter the telephone number you wish people to use.  Ideally track this number (we use Infinity call Tracking, or there are plenty of other services available) to ensure you can measure ROI.
It's not unusual to see extremely high Click Through Rates resulting from mobile only campaigns, our locksmith campaign regularly exceeds 20% for example.
So, why not give it a try and come back and let us know how you get on?
Claire Jarrett is Managing Director of Marketing By Web.