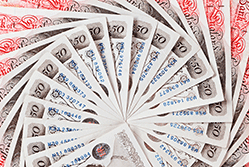 With the reduction in small business loans offered through high street banks in these times, news of a possible Coalition scheme to offer start-ups the financial break they need, may sound like a bonus to many bank managers.
Hopefully, the Tory business bank will be offering nice promotional gifts like high street branches of Lloyds, Halifax or TSB have to incentivise the customer. At the very least they could hand a silvery pen out of it as they sign your business up for more of the government's borrowed money from the IMF.
Chancellor George Osborne's claim that it is "all the alphabet soup of existing schemes" should spell "the Tory way of tidying away bitterly disappointing incentives one to one giant kid's meal, the kind that lacks XYZ of investment capital for genuine high-street money lenders at a time when the UK economy is in recession, without beans".
The UK economy has statistically been suffering under the weather from a cloud of uncertainty forecasted by the so-called 'big-four' high-street Banks. A sector-based approach is a new way in which the Tories can withhold currency and lending to the banks, while having a stronghold in the business investment market and sell assets to small businesses and provide them the breakthrough that has been waiting in the wind.
Ahead of the speech, at Imperial College, London, Cable said that there was a "real shortage" of the "long-term patient capital" needed by businesses to grow. Larger businesses were "by and large" capable of raising short- and long-term finance via capital and equity markets. Meanwhile, the latest SME Finance Monitor showed that in the last 12 months, 33% of businesses that applied for loans were rejected.
Maybe it is along the path but this is still only in initial talks, meaning that the government need to open a tin of beans on-cue and finalise on its structure and offering to selected sectors, choose smaller 'challenger' banks and non-bank sources to take on the so-called 'big-four' and perform more like a business.
When Vince Cable addressed the public, the follow up indicated that it could shop around to find the tin. Smaller banking providers such as the Co-op, German lender Handelsbanken and Aldermore, are all contenders. By and large Aldermore sound like front-runners. In March, they announced their intended participation in the Government's National Loan Guarantee Scheme (NGLS) providing small businesses to borrow at a lower rate. The partnership would, Cable said, boost these smaller banks' lending capacity as well as round up existing co-investment and guarantee schemes.
Hopefully, this would lead to relief from this financial gasp and finally you start-ups out there will have the power to fulfil your destiny and have the financial backing you needs.