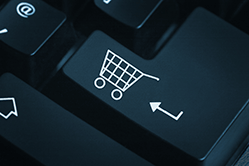 Starting an online business is not an easy undertaking, there are many considerations to take into account before you even get your new business off the ground. Often new businesses fail because they don't plan adequately or neglect to consider the magnitude of the task ahead of them. Here are my top 10 tips for starting a successful online business.
Identify your market
So you've got an idea and a product (or products). Now it's time to start thinking about who you are planning to sell to. This should help you to decide some of the fundamentals for your website, such as the localisations and designs you will be using.


Set realistic budgets
This is core to the success of your online business. Good web design and online marketing professionals aren't cheap and cutting corners with companies offering their services for next to nothing is an accident waiting to happen.


Pick the right domain name
Getting your domain name right is a very important step, because once you have it you can do a lot of damage by changing it later. You need to ensure that it fits the brand, is easy to spell, as well as avoiding confusing words such as 'dot' or 'dash'.


Get your design right
Choosing the look and feel of your site can be one of the toughest elements to get right because you need to ensure that usability and functionality aren't distracted by pretty designs that don't lead to sales.


Search engine optimisation (SEO)
Ensuring that your target market can find your site is essential to making your new business work and SEO is core to that. Doing this right from the start is essential to your site's long-term visibility.


Pay per click (PPC)
Through effective PPC you can make sure that your target market see ads for your products for all relevant searches. Making sure you are running a competitive Ad campaign can be the making of an online business.


Social media
Social networks such as Google+, Facebook and Twitter are integral parts in the online business machine, allowing you to engage with your audience and attract new customers. Ensure you secure your brand name early for these.


Brand protection
Securing as many social profiles with your brand name as possible is important because this should ensure that you dominate the first page of search results, as well as protecting yourself against malicious use of your brand name.


Pick the right host
You really do get what you pay for here, and to make sure your site remains live at all times and loads as fast as possible you need to pick the most reliable host for your site.


Maintenance and getting the right content management system (CMS)
Once live, it's a certainty that your site will need maintenance. Finding the best developer to handle the technical stuff and getting the best CMS for you is very important. 
Oliver Ewbank is a digital marketing manager at leading digital marketing agency Koozai.com. He can be found on Twitter as @Koozai_Ollie.