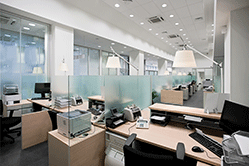 Start-ups have it tough these days – there are so many companies in every single industry that it takes an incredible effort to find an edge that would allow a start-up to thrive or even operate in these conditions. However, there are some unique solutions to some of the obstacles that start-ups usually meet when they start out.
Office space
The truth of the matter is that almost every single business needs an office space to run properly. The thing is, it is hard to find a good balance between the costs and the actual benefits of a prestigious location. You will either have a great place in the city centre and run out of money, or you will find an abandoned building far away and nobody is ever going to notice that you even exist. How can one deal with that dilemma? One though-provoking idea has recently found a footing on the market – the idea of virtual offices.
Virtual offices
The idea is stupidly simple – you can rent an 'operating' space somewhere away from the centre for a low price. From that place, you will simply run your small business without any distractions that the city centre often brings. And, additionally, you will rent a virtual office in a prestigious spot. There won't be any physical space for you, but your business will get plenty of prestige from being located on a good address.
That alone would hardly be worth it, but think about the fact that you can use that address for all kinds of things – correspondence, order taking, advertisements, etc - the possibilities are unlimited.
Sometimes, your provider might actually own some physical space in the given location and will often be able to provide you access to that in case you would like to set-up a business meeting without having to force your customers out of the city. Intriguing ideas all around – and perhaps you will be able to think about some more as well!
Lewis Edward is a co-founder of The Office Providers, a company that deals with all kinds of office space.