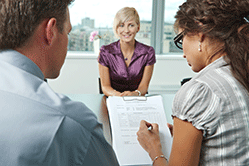 As a business owner, you will know that to remain competitive within your market your business needs to grow. If you are not increasing your turnover and profits, you risk soon being overtaken by businesses that are.

Whether you prefer to remain a relatively small business or if you have the success of Richard Branson's Virgin in mind, business growth will inevitably lead to hiring more staff. The importance of hiring top quality staff cannot be overestimated, because it can prove to be the difference between success, survival or failure.

Although many small businesses have never had or can no longer afford to have in-house HR departments, using external HR companies or HR software can provide a solution. However, if you decide to manage your HR matters, recruiting employees will be down to you, of course.

Along with more traditional recruitment strategies, today's business owners are now turning to social media to hire top quality employees. If you are unsure how to do this, here are some tips.
LinkedIn
LinkedIn was established specifically with recruitment in mind. It not only enables job seekers and employees to promote their skills, education and experience online, but also acts as a business network and provides a way for like-minded professionals to contact and connect with one another. 
If you or your business does not already have a presence on LinkedIn it is a good idea to set one up. Along with enabling you to network with fellow business owners, potential and existing customers, it will enable you to search for potential employees. Think of it as online dating for the corporate world, where you and job candidates can connect online before making the commitment to meet in person.
Twitter and Facebook
Don't make the mistake of thinking Twitter and Facebook are just for teenagers or bored housewives. They are both very useful tools for promoting businesses and recruiting employees. Top quality employees want to work somewhere that offers more than just a great salary, they also want to work in supportive and enjoyable environments, too. 

Facebook and Twitter provide a great chance to show your company's personality to potential job candidates, who will likely be searching through your Facebook page and Tweets to find out more about your business. If your company has taken part in a charity event, held a team-building day or any other social events, promote it on your Facebook page, because it will show potential employees that your company can offer more than just a nine-to-five job.

On a practical level, Facebook and Twitter are ideal places to advertise jobs. If a vacancy becomes available, post it on Facebook with a link to how applicants can apply. Also Tweet about it and encourage staff to Retweet it on Twitter.
Growing trend
Use of Social media isn't a fad – it continues to grow. Google+ has become the latest social media tool that combines LinkedIn with Facebook and enables users to create separate professional and personal networks in one place.

There are many business benefits to using social media and businesses have realised it is a perfect tool to enhance their recruitment efforts. The fact is, failing to use social media could put your business at a distinct disadvantage when seeking to hire top quality employees.  
By editor and blogger Derin Clark writing on behalf of Octopus HR.