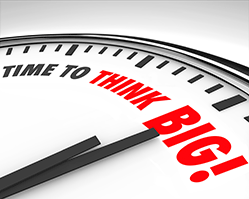 While you're outlining the vision for your life, formulate some clear goals and write them down. Not having objectives is like taking a journey but not being sure of the route or the destination. Write down exactly how much you want to earn, how many holidays you want a year and anything else that is important on your wish list.
Make your personal and business goals bigger than you can possibly imagine. This shifts your thinking and helps to shake you out of your comfort zone. Even if you don't hit your goal, you might get 75% of the way there, which is still a bigger leap than you might have made with smaller, more conservative goals.
You don't need a step-by-step plan but knowing where you want to end up can be enough to get you started.
While I would always advocate starting out with a clear idea, and major goals, that doesn't mean your business actually needs to start off big from an operational and financial perspective. I believe my success has been down to structured and planned growth, investing small amounts and proving the business model works before moving to the next level.
I had an inkling that Tots To Travel would take off, but it has far exceeded anything I could have imagined. But had I overstretched from the start, it may never have had the opportunity to grow.
And you don't need to come up with a BIG idea, in fact it's probably better if you don't. Costa Coffee didn't think up the café, they just reinvented what was already out there. We didn't dream up the holiday lettings business, we just took a different approach from the companies that were already out there.
Extract taken from The Mother of Invention, written by businesswoman, author, mentor for women in business and mother of three Wendy Shand, owner of multi-award winning business Tots To Travel. The book is available to download for free.