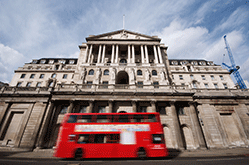 A new report by "workforce management and SME support specialist" Optionis, based on a survey of more than 500 small-business owners, contractors and freelancers, suggests that only one-in-five small firms has received help and advice from their bank, with only one-in-ten regularly receiving "useful information about relevant products and services".
When it comes to supporting growth, the research also found that respondents viewed receiving high quality advice from their bank as more important than finance, which is commonly held up as the area where banks fail to support UK SMEs. Indeed, high quality advice came second only to online banking in respondents' list of banking priorities.
The research was carried out as part of Optionis' Get on and Grow report, which set out to shed light on how banks could help support growth among the nation's small firms. "Banks need to raise their game when it comes to supporting growth among emerging entrepreneurs and small and medium-sized businesses," said Optionis managing director Derek Kelly.
He continued: "Emerging entrepreneurs and small business owners seem to be having an increasingly remote relationship with their bank. This is perhaps unsurprising, given the popularity of online banking. However, banks need to work harder to find ways to offer advice and support to [small business] customers, particularly on issues such as cashflow that are crucial to businesses survival."
Respondents to the Optionis survey rated the current service they receive from their bank at a disappointing average of 4.6 out of 10. Bank charges were also criticised, with "fair charges" named as the third-highest priority for businesses, yet the current perception of fairness was a meagre 4.8 out of 10.
According to Optionis, the Get on and Grow report "tracks important indicators of growth relating to small enterprises in the UK. It tracks more than "7,000 freelancers, contractors and small businesses each month, looking at financial growth, entrepreneurial mobility, regional trends and gender variations". The full report can be read here.
In July, the Bank of England announced that lending to small businesses in the UK had increased by £238m between May and June – the biggest monthly rise since statistics were first produced in 2011. The increase meant that UK SMEs borrowed £170.4bn in the year to June, however, compared with the previous year, lending had fallen by 3.3%. According to the BBC, UK businesses were borrowing "3.7% less than a year ago, and 1.3% less than in June.
In response, a spokesman for the BBA ("the voice of banking & financial services") said: "In the current economic climate many businesses are building up their cash reserves and using this to fund activity rather than take on additional borrowing. Our own figures for small and medium-sized businesses show some £125.9bn is currently held in current and deposit accounts. 
"Banks are currently offering some of the lowest interest rates in history and there should be no doubt that now is a good time for businesses to go and see their bank if they want to borrow. If you run a business with a good business plan and want funding, our message is apply to your bank."