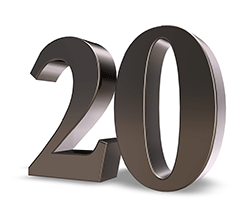 Ideas are in abundance. We all know people with passion, vision, ambition and a real desire to make a difference with their new ventures.
It's been an honour for everyone involved in my organisation, Entrepreneurial Spark, to assist more than 300 start-ups, to help them realise their goals and turn some of these ideas into business. However, in this time we have also seen some stumble and their ideas dissolve away. Lack of effective execution is the number one reason for this, in our experience.
So what are the Top 20 business founders' fundamentals to enable successful transition from idea to business? 
Execution begins when you have validation of your idea (eg some early sales) and have made a significant commitment to your business (eg received investment, quit your job, remortgaged your house, etc).


You can't do business sitting on your backside. You must get out there and meet real customers in their world. Witness them dealing with your teams, procuring and using your product and services. Only then can you really know what's really going on.


Sorry, your idea is worth nothing! The quality and effectiveness of your execution will dictate its value.


An operational system will bring rhythm to your chaos and help you turn your strategy into business ACTIONS.


Hire the best people you can afford. Clichés are all too often true! Often we struggle to actually do this! Hire slow.


Watch who you get into business with.
Watch who you get into business with.
Watch who you get into… You get the message, right?


Mind the gap. Recruit your weakness, the things you don't like to do or are not good at (eg operations, selling or finance).


It's all about the money. Get a great finance director, if finance is not your bag. Even one day a month is better than nothing.


Pre-mortem: agree your total affordable loss before you commit. "When will we pull the plug if this one doesn't work?"


Manage cashflow with surgical precision and never hide bad news from yourself or others.


Create the "A" team. Drive out the "C" players. The bad behaviours and the insecure senior managers.


Drive alignment across every member of your team with amazing communication. Your purpose: "big, hairy, audacious goals", business actions and dashboards for everyone to track their progress.


Discuss the "un-discussable"- what's the scary thing no one wants to talk about. What really moves the dials?


Create rewards/compensation that supports alignment. Watch out for "gaming"- rewarding behaviour at the expense of the bigger picture (eg sales without the service).


 Listen. Practise this discipline. Watch the best, they listen and understand others intently.


Don't over-talk a point. Stamp out time-wasting meetings.


Discuss your learnings with your team when things don't work or if you get some feedback/data. Re-imagine, re-shape and #GoDo!


Take action- especially the tough decisions. Do it NOW!


Look after yourself. Manage your capacity and keep in touch (in person not online) with the other world.


Ask yourself and others – "Should I be the leader"?  Be prepared for a "no". It's OK; there are plenty of other things you can do in the business. Leadership is not for everyone.
Recently I had the pleasure of meeting David Grevemberg, CEO of Glasgow 2014 [next year's Commonwealth Games]. He has a deadline that cannot slip. He can't shift the whole schedule a couple of days because of unforeseen circumstances or because "it's not perfect yet". He must execute with precision and his team are totally aligned to this goal. If we want success and a legacy, we must behave the same way.
Blog supplied by Brian McGuire, co-founder of Espark.