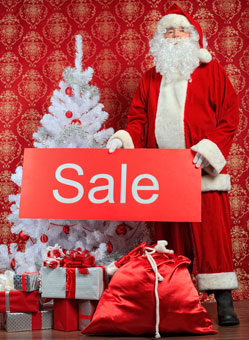 As the high streets prepare for a shopper-invasion and the countdown to festivities begins, businesses that traditionally feel the financial impact of the peaks and troughs of seasonal trading are once again preparing their strategies to manage cashflow.
Research published earlier this year by Santander Corporate & Commercial suggests that 61% of UK small and medium-sized businesses are impacted by seasonality – with 37% suffering as a result.
But the truth of seasonality is that it doesn't always fall at Christmas, nor is it industry specific. For businesses across the country, delayed receipt of revenue and seasonal fluctuations in demand can lead to serious cashflow problems that existing finance arrangements cannot accommodate. Even for the most hardy business management team, a significant slowdown in business or revenue can make for a tough time.
Management strategies that have been agreed in advance can help to soften the blow when a seasonal dip is on the horizon. Here are four ways to stay on top of cashflow when things get tight:
1 Invoice smarter
One of the biggest issues facing businesses today is that of late payment. According to the Forum of Private Business, more than one million UK SMEs currently face difficulties with late payment – about 20% of the UK's business population. The total amount of late payments across the UK now stands at just below £37bn.
Of course, you want to keep the customer on side and encourage future business, so a slick invoicing and payment processing operation can keep relationships harmonious and reduce the chances of late payment. Make sure invoices are sent out promptly, chase due and overdue payments regularly. Consider introducing an incentive scheme where discounts are given for early payment. Interest charges and financial penalties can be applied for late payments.
2 Project and plan
Cashflow forecasting, as part of the wider financial planning process, is essential for all businesses – not least seasonal ones. Healthy and detailed insight into anticipated fixed and variable business costs, set against data gleaned from your sales forecast, can help predict the future cash needs of your business and allow you to put financial back-up plans in place.
Not only will this process keep you aware of your business's cash position at all times, it will allow you to creatively map and move around payments and budget allocation during leaner months.
3 Make your suppliers work harder
While you need to manage and improve cash inflow, there are creative ways of managing cash outflow, too.
When entering into a new supplier agreement or looking back on existing ones that can be improved, make your suppliers go the extra mile. Negotiate favourable payment terms, work to drive down the price, arrange purchases on a sale or return basis, or settle on a bulk discount agreement. If you can, work to spread out recurring expense payments throughout the year so that they fall outside of your slowdown period.
Many vendors and suppliers are flexible, since it is in their interests to retain your business and put an affordable and sustainable agreement in place that will also prevent them receiving late payment from you.
4 Short-term finance for long-term effect
Seasonal trends are beyond our control. One-in-20 UK businesses closes their business during seasonal periods to reduce costs; 6% of UK businesses admit to relying on credit cards to manage seasonal fluctuations in supply and demand; 4% use business loans; while 17% either increase or decrease staff numbers.
For stability during seasonal slowdowns or growth management during speed-ups, short-term cashflow facilities can be an invaluable lifeline. These funds offer a precious injection to pay off creditors, pay staff and maintain an overall healthy operation.
In the £250-500k annual revenue category of businesses surveyed by Santander Corporate & Commercial earlier this year, 30% of those that suffered from seasonal fluctuation said invoice or supply chain finance was used to ride out seasonal downtime.
Invoice finance has now evolved through crowd-funding into invoice trading, a facility that creates a market between businesses and investors to give flexibility to businesses in need of short-term working capital finance, without the need for long-term contracts or a whole of ledger commitment.
Blog supplied by Beth Nicholas, writing on behalf of Platform Black, provider of complementary and alternative finance solutions.