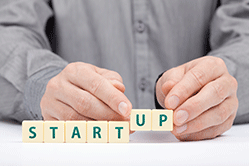 Starting a business involves making an often tough, but amazing journey. I was fortunate enough to have started 'tinkering with the internet' right when affiliate marketing was just starting to evolve. At that time eBay, for example, would pay for every website visitor they received, even if they clicked straight back off. I could see the enormous opportunities and decided to pursue them.
I completed a degree in computer science before going into business with my best friend, using the money I made designing and selling my first website. I developed a very basic affiliate programme and learned all the basics to being a single Internet marketer, website management, design html and online marketing. I did not know it at the time but this would eventually become MoreNiche, the affiliate marketing company of which I am managing director. We decided to specialize in the growing health and beauty industry.
The business really started to take off and in 2007-2008 we grew sales to such an extent that we broke the £5m per year turnover mark. All our growth came organically from our own affiliate work, but later from partnerships.
Face problems head on. There is always a solution
We've certainly learned lots of lessons getting where we are today. Every business has its challenges. One time I had to work solidly for 36 hours because someone had managed to paralyse our systems, which meant that none of our websites were working. After much soul searching and a severe lack of sleep, I eventually managed to get us up and running again.
We've had numerous other bad experiences, including a credit card processor going bankrupt, which severely dented our profits, as well as a supplier selling us tens of thousands of units of product that simply were not as described. The important thing is that you learn from such things, deal with them and make sure they don't happen again.
Success is a team effort
One of the most important lessons I have learned since starting MoreNiche is that success cannot be achieved alone. A business, no matter how big or small, is really just a collection of people working towards a common goal. It's these people that will either make you a success or not. I have some superstars who have worked with me for many years and I would not be here without them. Rewarding key staff for their dedication is critical.
Never take your foot off the gas
Having the creative freedom and the technical foundation to try ideas out has allowed me to enjoy business and continue to thrive on tomorrow's challenges. It would be very easy to take the foot off the gas and relax a little, but that's just not in my DNA. For whatever reason, I just want to go further.
Blog supplied by Andrew Slack, managing director of affiliate marketing business MoreNiche, which specialises in the health and beauty industry.