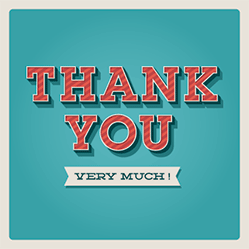 It is often said that employees are the lifeblood of a business and it is certainly true that they are an important factor in its success.  For this reason ensuring employees feel valued is vital in order that they remain motivated, loyal and productive. 
Research conducted by Modern Survey suggests that 85% of employees who feel meaningfully recognised will go above their formal responsibilities to get a job done. However, as economic conditions continue to be tough, allocating a significant budget to an all-singing, all-dancing staff reward and recognition scheme is often simply not an option. Business owners and managers should therefore be looking at low-cost, high-impact alternatives.
Praise and recognition are essential and everyone likes a 'pat on the back' to make them feel good. Often the only reward for hard work is the satisfaction of the individual responsible in seeing a job well done, but it is important that time is taken to shine a spotlight on them.
Recognising an individual, or a team or department, has a huge knock-on effect throughout a business with word spreading both through the grapevine and via more formal communication channels. This mustn't just apply to those team members whose contributions are obvious, such as those in sales. Equal pride must be taken in those whose skill and dedication is an integral part of your business success. 
Can this be achieved on a budget? Yes, because a crucial element in any employee recognition programme is presentation and, for this reason, the reward itself does not need to be high-value. In most cases, acknowledgement in front of peers is known to mean more to the recipient than the reward itself and so the reward can be relatively low-cost, or in some cases no-cost. Rewards that cost little but have a big impact include an extra day's holiday, employee of the month parking space or a free car clean during working hours. Thanking employees with an early finish on a Friday afternoon, a late start on a Monday morning or an extended lunch break are also popular as are experience days, giftcards and vouchers.
The key is to dedicate some time to present the reward in public and say a personal thank you, because it enhances the overall sentiment of the gift and makes it even more memorable. Overall, if employers recognise publicly, often, and associate the reward with desired behaviours, better results will be achieved than if the budget was blown on a fancy reward.
Length of service awards are another effective way to recognise employee contribution without incurring significant cost. They may seem like a thing from the past, but switched-on businesses are maximising their effectiveness by rewarding frequently to deliver recognition to the employee that will inspire a fresh burst of productivity and re-engage them in the business. 
Today, the gold watch for 25 years of service is no longer relevant and so businesses have significantly shortened the length of time before awards are given with awards after five, 10 and 15 years. In some high employee turnover industries, such as call centres, rewards are given after six months or a year. While the physical award can be low-cost, such as a meal out, it is important to make the process of rewarding a really big deal by ensuring the presentation is attended by peers and by shouting about it via the appropriate communication channels.
Another low-cost step that employers can take to boost employee morale, engagement and loyalty is recognising and celebrating a range of occasions with them, including birthdays, weddings, housewarmings, baby showers, length of service awards, Christmas and special anniversaries. Arranging for a card containing a small gift to be delivered to an employee's desk, home or email inbox is a personal and special way to recognise employees who creates a feel-good factor in the workplace with minimal financial outlay and effort for the person tasked with organising it.
Businesses that take small steps such as these to recognise and reward employees and make them feel valued will reap the rewards.
Blog supplied by Kuljit Kaur of The Voucher Shop.