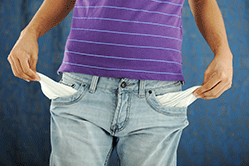 According to research published recently by membership organisation the Forum of Private Business (FPB), business costs in 2013 in the UK have increased at a rate of "3.5% ahead of inflation".
The FPB's latest Cost of Doing Business survey, based on responses from its members, concluded that "firms are still facing an uphill battle to make ends meet, despite positive signs of an economic recovery," says the organisation.
The FPB reckons 94% of businesses have seen an overall increase in their business costs in 2013, with 87% having to cope with an increase in energy costs, 83% with higher transport costs, 78% with a rise in marketing costs and 69% with higher raw materials/stock costs.
Margins continue to be squeezed, with two-fifths (41%) of respondents unable to "pass any rising costs onto customers, forcing them to cut their own costs to keep prices static" (just 2% were able to pass on costs in full, says the FPB).
"The major reasons for increases in prices are predominantly down to transport and energy prices rising, coupled with the continued weakness of sterling for importers," explains Alexander Jackman, FPB head of policy. "The economic outlook may be better, but costs still remain an issue for our members and a key focus of our lobbying and support services.
"Unfortunately, it doesn't look as if there is going to be any respite from energy hikes any time soon, despite the ongoing political pressure to introduce more competition in the market, with many of the major players recently announcing significant increases and others expected to follow suit."
Although annual inflation has fallen from 3% to 2.7%, prices have continued to rise faster for businesses (6%), although, says the FPB, this is less than the 6.7% it reported last year.
Almost three-quarters (73%) of respondents have experienced cashflow issues as a result of rising business costs, which has had a "detrimental effect on 51% of firms when looking to invest", while "51% also reported that it has been detrimental to employment levels" and "63% feel that it has inhibited their plans for growth".
Despite the recent good news on the UK economy, increasing business costs could hamper many business's ability to take advantage of recovery, with 83% of respondents expecting prices to continue to increase and 16% expecting a "significant increase", says the FPB.
"Businesses, like consumers, are facing a lot of upward cost pressures at the moment," notes Phil Orford, FPB CEO. "When looking at how to dampen energy price rises and other cost pressures for households, the government shouldn't ignore the fact that businesses are facing similar challenges. Political efforts to positively impact on the cost of living should not be funded through increasing the costs of doing business."
Sites such as uSwitch, UKPower and comparethemarket.com enable businesses and individuals to compare energy prices and try to find a better deal.