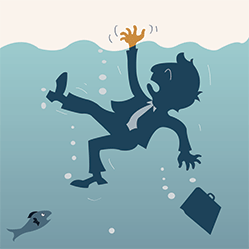 I ask every audience I talk in front of one key question: "What's the most important thing to measure if you want to find out how well your business is doing?"
And, without fail, people always come back to me with the wrong answer! They call out 'sales' or 'turnover' or 'profit', but they hardly ever mention the right and probably only answer that really matters – 'cash'.
In reality, it's impossible to carrying on trading if you run out of cash.
In the current economic chaos there are plenty of casualties, the weak and vulnerable businesses will go bust. More worrying is the profitable businesses that go to the wall because they run out of cash.
So, how do you keep your head above water? In basic terms, sell something people want; make sure the difference between what you buy it for and what you sell it for is big enough; find a way to get people to buy from you, take massive action. And, of course, make sure you collect all the money you are owed: 
Measure cashflow like a hawk.
Do your cashflow projections.
Have clear credit terms.
Check all new clients' credit records.
Have a rigorous process for invoicing, following-up and collection.
Hold on to your cash as long as you can.
Get yourself a decent accountant.
As a self-confessed serial entrepreneur I hate the detail and intricacy of putting cash-flow processes in place, but you can't afford not to.
Blog supplied by Robert Craven of the Directors' Centre, who shows MDs and business owners how to grow their sales and profits. His latest book is Grow Your Service Firm.