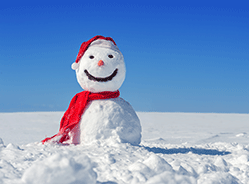 With little or no daylight outside of work, it's perhaps easy to understand why people's morale descends into the abyss during winter.
As some employees suffer a bout of the winter blues, small businesses can breathe a sigh of relief when they begin to realise that very little budget is needed to boost staff morale.
In fact, contrary to popular beliefs, money isn't the best motivator. Praise and flexibility are far more influential than bonuses and pay.
Limited resources
A high proportion of small businesses will suffer a drop in staff numbers this winter, whether that's caused by a spike in sickness-related absences or an influx of last-minute holiday requests. Combine the two, and your other employees could be facing a crippling workload.
A watertight sickness absence policy and holiday request policy offer the best preventative measures to manage the risk of a limited workforce.
It's also crucial not to forget those who are left behind, with recognition for their achievements helping to reinforce morale.
Flexibility and communication
Adopting a flexible approach also helps to keep morale high. Take severe weather for example. Offering your employees the chance to work from home helps to reduce absences and prevent the business from grinding to a halt. In such an event, it's crucial that you have a robust flexible working policy in place.
A dysfunctional team can have a devastating impact on productivity, which is why good communication within the workplace is vital.
Be sure to keep your employees up-to-date of any business news. However, do remember that this is a two-way street, as your employees should be able to approach you with any work-related issues.
Small gestures
A well-engaged workforce will ultimately deliver increased productivity and performance, therefore it's crucial to recognise and meet the needs of your staff.
Remember that even the smallest gesture can make a big impact, such as enabling staff to leave early once targets have been met or even treating them to lunch.
At the end of the day, it's up to you as the employer to motivate your workforce and prevent a dip in staff morale.
Blog supplied by Helen Pedder, head of HR for ClearSky HR.