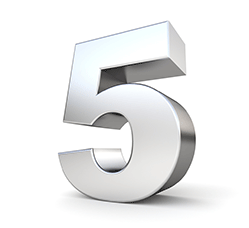 In six months of trading our company has been through some pretty turbulent times. In the true spirit of supporting other start-ups small businesses, we'd like others to be able to learn from our experiences. In no particular order, here are five pieces of insight we gained in our first six months of trading. Each is fairly universal, so some or all should also apply to your business.
1 Don't expect an instant return on investment
Building a business is a long and hard task and it requires a lot of patience. Anyone who expects to make an instant return is probably being overly optimistic or not taking into account all of their start-up costs. You need to account for everything you spend money on when starting your business, which could include a website, marketing/advertising, stock, premises, staff and quite possibly many other things. Even if you have a high margin product or service, it will take time to recoup all of your start-up costs.
2 Have a full yearly forecast and check performance against it regularly
This point closely links up with the first; you need to know your break-even point and when you need or want to reach it. Year-end targets are good, but you must work out how to meet them, because demand for a growing business is not linear. For example, if you want to sell 120 product units in your first year of trading, you might not sell the necessary 10 units every month from launch. That means you'll later need to sell more than 10 units each month if you are to achieve your yearly target.
3 Remember – the competition never stays still
When you create your initial business plan you'll probably look at what your competitors have done to get to where they are. It's also likely that you'll set goals to build a business around a similar (but hopefully better) structure. But don't forget that while you're doing so, your competitors will be trying to progress from where they were when you started. So keep an eye on your competitor's activity and remember – they're moving targets.
4 Don't expect everything for nothing
When building a new business you'll need some capital behind you. Unless you're in a space that's really open to creativity and you can get a lot of free media coverage and word of mouth, you'll struggle to gain momentum if you don't have a reasonable start-up budget.
5 Beware of salespeople
New businesses are a prime target for predatory salespeople (especially telesales). If you're in the online space you can expect companies that host business directories, sell email data, run pay-per-click ad campaigns, etc, to contact you. Most of them will press really hard and rattle off impressive-sounding numbers, but the fact is these direct sales services rarely convert to sales. If you are thinking of investing in any of the above channels, do your homework so you are able to find the best service provider.
Blog provided by Pete McAllister of Intelligent Car Leasing.