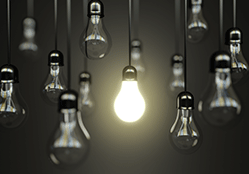 As an SME owner, I know that experiencing that inspirational moment that cements the purpose of your business is essential, but almost painfully difficult to find. The more you panic about finding your 'Eureka' moment, the more elusive it can prove to be. However, there are a few sure-fire ways that can help you to relax and find that moment. Take some time to find inspiration in some of the most unlikely of places and chances are you'll soon be struck by the light-bulb moment you've been searching for.
Get creative
Even if you're the world's most practical and business-minded person, sometimes you have to unleash your creative side to find true inspiration. From roughly sketching a meaningless object to spending hours working on a more challenging piece of art, you'll find yourself lost and letting your mind wonder onto other subjects, which could lead to you being struck by an unexpected bolt of inspiration.
Do something meaningless
Over-thinking something often means that the ideas you come up with are forced and unrealistic. Watching an unchallenging film or TV show can allow your mind to switch down a gear and come up with something much less forced.
Get lost in a good book
Unwinding with a great read has numerous benefits, but is also a brilliant way to learn and let your mind wander. It doesn't have to be related to business in any way. Pick something or someone in whom you're interested and passionate about or even something that will spark debate or opinion in you. Annotate as you go along with points that you find interesting, inspiring, enlightening or even empowering. You could even write short reviews or points you have learnt.
Check out successful adverts
As more people move to TV that allows viewers to pause, rewind and fast-forward, it can be easy to think that adverts are a total waste of time and money. However, there are adverts that make people stop, look and listen. Take notes about what makes these ads successful. How are they able to convey a story in a short amount of time and how do they connect with their audience? Apply these observations to your own work and think about how you can make it your own.
How you become inspired is up to you. We all have our ways that are as unique to us as our business models, but if you're lost for ways to expand your mind, these are some easy tricks that are sure to get the creative juices flowing.
Blog supplied by Paul Lees, founder and CEO of business conference call services provider Powwownow. You can see Paul talking about his experience of starting a business below.