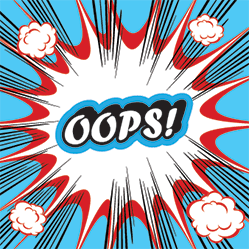 We all make mistakes – it's inevitable. In fact, it's desirable. Unless people are pushing themselves, innovating and taking risks, a business could stagnate. What's more, an inevitable part of risk-taking is that mistakes will happen.
And while you may not want to create an environment where mistakes are feared, you need to address them. Fortunately, it need not be an excruciatingly painful process for you or the person who's messed up.
Why you must address mistakes
If you are tempted to ignore mistakes or brush them under the carpet, you may find that your business suffers and people never improve or progress.
Instead, if you deal with the situation, your business will benefit from fewer mistakes. Fewer refunds will need to be issued, there will be fewer quality control issues, fewer customer and colleague complaints, and less time spent rectifying the same errors. Also, the employee will understand clearly how to avoid making similar mistakes in the future.
Different types of mistakes
It's important to identify what type of mistake has been made. Is it major or minor? While a spelling mistake in an important document may not be a sackable offence, wilfully neglecting an important client is pretty inexcusable.
Similarly, is this the first of its kind, or an oft-repeated action? No one is perfect and mistakes do happen, particularly when people are undertaking a task for the first time. This, though, is vastly different from someone who persists in making the same mistake over and over, despite being told about it and perhaps receiving training intended to help them get it right. Identifying the type of mistake you're addressing will inform what you need to do about it.
Check your facts
If you have identified that the mistake needs addressing, before offering an opinion, suggestion or sanction, fully investigate with all necessary parties three things – what caused the mistake, who was responsible and what the impact was. There will be countless times you will be grateful that you did so. It's amazing how often things aren't quite as black and white as they first appear. By investigating the matter objectively and fairly you'll be better placed to take the next step.
Be clear
Once you've established the facts, it's your turn to be clear with the employee. Describe what you understand to be the mistake, its cause and where the responsibility lies. The employee needs to confirm that his/her understanding matches yours (if not, go back to the previous 'fact checking' stage). Then you need to explore why they made the mistake and what can be done to prevent it happening again. You need a firm commitment from your employee that they will strive not to repeat the mistake.
Be kind
You must be clear and not gloss over the impact of the mistake on your business, but this doesn't mean you need to be unkind. Acknowledge that everyone makes mistakes and express your confidence and encouragement that the employee's future performance will be better.
On-going relationship
It's easier to deal with this type of problem if you have an open and trusting relationship with your employee. Investing in good relationships with your team is something you should do all year round. Not only will that make these types of conversations easier, but it will also help identify likely mistakes before they happen.
Don't be afraid of mistakes. They're a common fact of life and one that, with a bit of thought, can be easily managed. What's more, accept that making mistakes need not be a bad thing. After all, in the words of legendary US basketball player and coach John Wooden: "If you're not making mistakes, then you're not doing anything".
Blog supplied by Heather Foley of HR consultancy ETSplc.