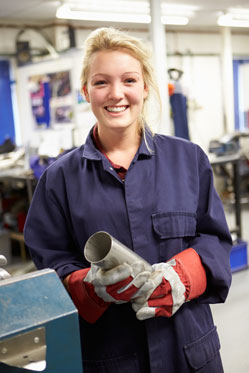 According to the AAT ("the UK's leading qualification and membership body for accounting and finance staff"), your business could be missing out if it doesn't currently employ an apprentice.
The organisation reckons that every time a business takes on an apprentice, "its bottom line gets a boost of more than £2,000", while lack of awareness of available government support is a key reason why more small and medium-sized businesses aren't employing apprentices, who, it estimates, "delivered £1.8bn of net economic benefits to UK organisations in 2012/13".
The claims are based on a research report called The Value of Apprentices, compiled by the Centre for Economics and Business Research (Cebr). It found that apprentices offer UK firms "a significant return on their investment", with economic output usually far exceeding associated wage and training costs. Even after wages and training is accounted for, every time a business takes on an apprentice, on average, they gain by £2,000, according to the AAT.
But the research also found that awareness among businesses (particularly small firms) of government support for those who take on apprentices was poor. About 60% of small businesses surveyed by The Department for Business, Innovation and Skills in August 2013 lacked basic knowledge of the "government's programme of support for businesses that take on apprentices". For example, businesses with fewer than 1,000 employees that haven't hired an apprentice in the past 12 months and take on one apprentice (aged 16 to 24) could receive a grant of £1,500 per apprentice from the National Apprenticeship Service.
Jane Scott Paul, AAT Chief Executive, comments: "Take-up of apprenticeship schemes has grown sharply over the past five years, as more and more organisations enjoy the benefits that apprentices can bring to the workplace. This is benefitting their businesses and bolstering economic recovery and growth.
"We now need to do more to engage with smaller businesses – to break down the misconceptions and make it easier for smaller enterprises to unlock the full potential of training apprentices and to gain specific skills relevant to their business.
"Our research clearly reveals that apprentices, far from being a cost to business, are often a tangible benefit and, what's more, they're flourishing in non-traditional sectors such as business, administration and law. By quantifying the value of apprenticeships in this way we hope to encourage all sectors of business to open up their recruitment policies and address the skill shortage."
With it being National Apprenticeship Week this week, maybe it's time you found out more about the business benefits of taking on an apprentice?