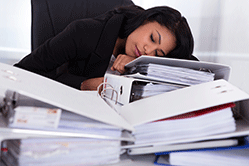 Every business owner wants their employees to be dedicated, hardworking and willing to go the extra mile by putting in extra hours when necessary. However, there is a balance to be struck between hard work and unhealthy, obsessive behaviour. So, has Britain become a nation of workaholics?
Whatever happened to 9-5?
The stereotype of an overworked executive was once associated with American high-fliers, yet in recent years this poor work-life balance has made its way across the Atlantic.
Figures from the Trades Union Congress suggest that one in eight UK employees works more than 48 hours per week, while research from the BBC suggests that more than half (54%) of Britain's workforce regularly works through their lunch break.
People who work long and unsociable hours could be doing themselves serious harm. Indeed, studies have shown that working 11 hours a day compared to eight increases your chances of developing heart disease by 67%.
Workaholic or just a hard worker?
In Japan 'workaholism' is referred to as Karoshi ('death by overwork') and is the likely cause of some 1,000 deaths each year.
It is crucial that owners recognise the damage that a long-hours culture can have on a business and its people.
One American firm takes the idea of combating workaholism so seriously that its employees are punished for working more than 40 hours a week.
Improve your time-management
A less drastic approach is to implement time-management tricks that can help boost productivity and performance. Time wasted by office workers during meetings has been estimated to cost the UK economy about £26bn a year. Rather than sitting around a table, you could request that staff members stand for the duration. This helps to rapidly reduce meeting length, while ensuring the same ground is covered.
Some firms use video conferencing to keep in touch with key individuals. This provides a powerful way to communicate in real time, meaning work can happen anywhere and at any time. Something as simple as implementing a flexible working policy can help to combat workaholism. When handled correctly, flexible working can boost employee morale and motivation, while reducing absenteeism.
If a staff member suffers from 'workaholism', your first step should be to review their responsibilities and duties, to determine whether they're burdened with an excessive workload and identify any reasonable adjustments that can made to address the issue.
Employees' statutory rights
Under the Working Time Regulations employees aged 18 and over are limited to working 48 hours a week. Members of staff have the legal right to opt out, enabling an increase in their working hours, but this must be done in writing and on a voluntary basis.
Start-ups and small businesses have the upper hand when it comes to tackling overworking. Effectively monitoring and managing the issue helps to prevent a workaholic culture from developing.
Blog supplied by Helen Pedder, head of HR for ClearSky HR.