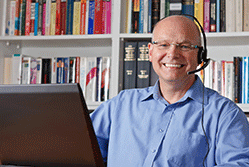 One of the biggest recent changes to recruitment has been the rise of the video interview. Enabled by lower cost, easy-to-use video conferencing software-based systems, an increasingly global job market and cuts in HR budgets have been key drivers. And with businesses facing pressure to speed up the recruitment process, a first or second interview can be conducted via video conference, played back and reviewed quickly and easily.
So with the traditional face-to-face interview being replaced by video, how can candidates and prospective employers better prepare themselves and what should both be aware of during a video interview?
First, a video interview features the same elements as an in-person interview, so the same rules of engagement, attention and acknowledgement must be observed. This means dressing to impress, looking alert, engaged and professional throughout.
Remember, 93% of communication is thought to be non-verbal, so don't forget to pay attention to body language. Positive body language includes nodding your head, smiling genuinely and leaning forward to show interest or understanding. A furrowed brow, frowning and leaning back can all be perceived negatively.
Also ensure that you have the proper hardware and test it before you start. A good webcam is essential to maintain eye contact without losing sight of the other person, and make sure you adjust your seat/computer to frame your face.
Use headphones too, because they are much better than speakerphones, which can amplify background noise, disturb and distract you from the conversation. Make sure you have a neutral backdrop, because a distracting or messy background may cause the other person to lose their attention. Proper lighting is important to make you look your best, and you also need to be aware of any reflective surfaces that can be distracting. Finally, be prepared. Just because it is remote, a video interview should be treated just like a face-to-face one.
Blog provided by video conferencing solutions provider Vidyo.