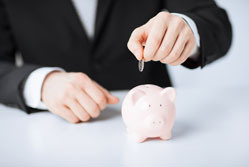 Personal, yes. Political, certainly. Business focused? Not that I noticed.
Like much of the country, we've been glued to the Budget today wondering if there'll be any surprises from George Osborne. As publishers of the Donut websites, we're always particularly interested in what the Budget means for small businesses.
Mostly, the Budget came across as being a feel-good one, with an eye to individuals. The saver, the pensioner, the tax payer all have cause to feel uplifted by the Budget. Those pension pots that have hitherto been locked behind measly annuity schemes, unless you want to pay punitive tax levels to draw them down, suddenly seem within shiny reach at only a basic level of tax.
Those people, and no, I'm not one of them, with a spare £15,000 per year to squirrel away will now be able to put it all into tax efficient ISAs. The personal tax allowance increase actually puts more real cash into a lot of pockets. Families could breathe a little more easily with transferable tax benefits and childcare allowances. Companies with up to £500,000 to invest in developing their business could also do well.
The continuing help for first-time buyers and the promised increase in housing stock is good news for associated companies including removals firms (who also benefit from reduced fuel duty), the construction industry and conveyancers.
So much for individuals and big businesses. But most micro-businesses and start-ups, who were singled out for attention in last year's Autumn Statement, would still be straining to hear themselves mentioned.
Arguably, any Budget that makes people feel more optimistic and actually changes the amount of cash they have to spend, from tax cuts or accessible pension pots, will boost the recovering economy. And that, in turn, is good news for small businesses. It also, of course, won't do any political harm to the Coalition.
Personally, I thought the tweet from Norman Smith, chief political correspondent at the BBC News Channel, summed it up nicely: "Booze, Bingo, Business and Savers. That's your #Budget2014 Folks."