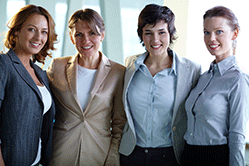 According to government figures, more women than ever before are starting their own business and this has led to a steady rise in the number of female entrepreneurs. When it comes to the number of male and female entrepreneurs in the UK, the gender gap is narrowing, but there is still plenty of ground to make up before parity is achieved.
Facts and figures
Previous perceptions about the typical profile of an entrepreneur would probably suggest that the person would typically be male and middle-aged, but business in the UK is changing and women are generally taking a more prominent role when it comes to business leadership.
It is interesting to note that at least 25% of registered self-employed workers in the UK are women and the number of female entrepreneurs is rising nearly three-times faster than the rate for men. There are understood to be more than 1.2m self-employed women in the UK who are involved in full or part-time work and according to the Office for National Statistics, the number of female entrepreneurs has risen by nearly 10% in the past two years, which compares very favourably to men (3.3% increase).
Mumpreneurs
The term 'mumpreneur' is used to describe a woman juggling family commitments with running a business, but it is very much a 'Marmite' phrase as far as many woman are concerned. Some think it's rather patronising, while others consider the term to be empowering, but whatever your view the fact remains that there are an estimated 300,000 mothers running businesses who contribute an estimated £7.4bn to the UK economy each year.
There are already annual 'mumpreneur' awards and numerous blogs and online directories aimed at making networking easier and opening up new opportunities and ideas for discussion for those women who are looking to start their own business.
Work-life balance
The challenges for men and women are often different yet equally demanding in their own ways and sometimes it can be a struggle to achieve the right work-life balance.
Many female entrepreneurs become self-employed after starting a family and one of the winners at the last mumpreneur's awards is probably typical of what being a female entrepreneur involves.
One of the co-founders of Peach Pink, Vanessa Pinkney, was a former retail buyer for a large fashion retailer. She has used her contacts and industry knowledge to form a company that supplies luxury bags that are now sold in numerous well-known stores.
Her typical day will involve running her business around looking after her twin daughters, emailing suppliers in the morning, doing the school run and using Skype to communicate throughout the day, running her growing business empire from her kitchen table.
Recipe for success
It's almost impossible to identify the absolute ingredients to achieve success in business or we'd all be following the same path and formula. Good advice is essential for anyone starting a business and here are some key points to consider.
A robust business plan is essential and you need to test your business model to make sure it is sustainable from the beginning. Having little or no start-up capital can actually be viewed positively, because it ensures that you apply greater financial discipline.
It is important to have confidence in what you are doing and a positive can-do approach is in the DNA of most successful entrepreneurs. And as long as you always remember that the biggest asset is you and work hard at building a supportive network, the venture has a greater chance of flourishing.
There are many business opportunities out there and when you look at the examples of success from previous start-ups, it is easy to see why the number of female entrepreneurs continues to rise.
Blog supplied by business strategist Tim Brown. Tim blogs about news and trends for successful small businesses in the modern world, including the ImRubbish site.