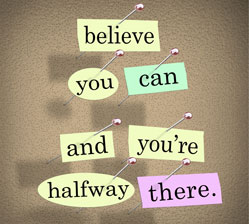 Beliefs drive reality and they are intrinsically linked to our values – the things that are most important to us. What you believe to be true you make right by finding evidence to support it.
So, if you believe that your target market is struggling at the moment and has no money to spend on your product, you'll easily be able to prove that to be correct. And yet if you were to say to yourself that your target market is making more focused buying decisions, you'll take a different approach to your next sales or marketing conversation. Whatever is true doesn't really matter. It's the attitude and energy you take to it that will make the difference.
"If you believe you can, or you believe you can't, you're right" – Henry Ford
Thank heavens our brains are wired to filter information according to relevance. Without that filtering we'd have more than two billion bits of information flying at us at any given second. How paralysing would that be?
Because of this filtering, we're wired to focus on what we decide is important – our values. This focus drives behaviour and therefore business results. So, what we believe – and then say to ourselves is the truth – can mean that we don't see evidence to the contrary. This can act as a positive or a negative, depending on what your beliefs are.
To make sure you are doing all that you can in this area to create success, begin to notice whether your beliefs are acting as 'cheerleaders' or 'critics' by considering these questions:
"What are the beliefs that you are running in terms of your customers, your product, your team or the market in general?" Grab some paper, make a list and then ask yourself…
"Are these beliefs building strong foundations and motivating me and my team to grow the business or are they looking for flaws and reasons that things go wrong?"
Whatever your beliefs are you have choice. You can make a change. Change your thinking and change your reality.
Blog supplied by Sarah Lane, executive and personal career coach, trainer, facilitator, behavioural change specialist, busy mum of a three year old and author of Choices (the "book for people who want to conduct a midlife review, people who are at a point in their life to make a change"). You can follow Sarah on Twitter.