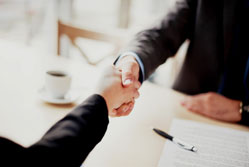 It's natural to see your competitors as the enemy. In reality, though, they're not (ignorance and blindness-to-change are what you should really be watching out for). At Cartridgesave.co.uk, we've found that building relationships with our competitors has been invaluable in terms of support and knowledge sharing, while being fun, too. Here are the top five things we've learnt along the way.
1 The pros and the cons
Each business has very few real competitors. Operating in the same market as another business does not automatically make you rivals, because it's rare that you will 'play' in exactly the same space, targeting the same demographics with the same model, products and/or strategy.
Furthermore, it's unlikely you'd disclose a secret that will unlock the key to your kingdom, even after one drink too many. This is because it's not that easy to copy a business. Even when imitators try to rip off your business model, they'll often copy the wrong thing, because they are not privy to your informed thought process.
Once you've pushed these two assumed 'cons' to the side, you can embrace the 'pro', which is, by creating relationships with businesses similar to yours, you develop a network of contacts you can speak to when you need to talk through issues affecting you both.
2 How to make the first move
Social media channels LinkedIn and Twitter provide great ways to test the water. You can't guarantee that your approach will get a good reception, but they allow your recipient the opportunity to politely decline without either of you losing face.
However, you need to be clear on what you're trying to achieve when you first approach a competitor (usually just a chat/social in our case). A few years ago, on our first ever meeting with a competitor, the owner had misunderstood our intention and thought we wanted to acquire his business. Needless to say, that was a mistake we haven't made since.
3 Where and when to meet
Industry-relevant exhibitions provide a great backdrop for meetings. You're both there already, so the pressure is off and no one has had to make a special journey. Plus, you'll both have a packed itinerary, so grabbing a quick coffee between other appointments will keep things nice and informal.
Organisers release delegate lists in advance, so you can scour these to get an idea of who is going. Then all you need to do is drop them a quick 'be good to meet up' line via LinkedIn.
4 Don't limit 'competitor friendships' to your sector
Over the course of your business life, you'll meet a number of like-minded entrepreneurs who you'll not only respect, but also get on well with. Make sure you keep in touch. Not only will they make great company when you fancy a drink after work, but they may become invaluable at key times.
Keep these meet-ups casual. On most occasions you'll find yourselves sharing the gossip over a drink. But you'll find these contacts important sounding boards for problems, lead-generation, knowledge sharing and even mentorship over time. For example, at The Sunday Times Fast Track event, we met an MD whose business (on the surface) had little relevance to ours, until we got chatting and discovered he ran a massive call centre. His advice, over the course of that night and a few subsequent meetings, has really influenced and improved our customer service provision.
5 Ask
Most importantly, don't be afraid to ask your contacts for help. We've found that people are flattered when called on for advice. The key is making sure you have a relationship in place before you make the call. It's for this reason you need to grow your networks with people who can offer informed advice that is relevant and based on their own experience.
Blog supplied by Cartridgesave.co.uk