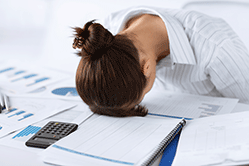 For most start-ups, bookkeeping might seem like a daunting task. However, when carried out properly, up-to-date financial records can bring about huge benefits to a business. 
Apart from ensuring that financial records are correct for the end of the financial year, it can also provide businesses with a realistic and forward-looking view of how the company is performing.
Fortunately, there is technology available to relieve the burden of bookkeeping. And with the right system in place, online accounting systems can enable small business owners to stay on top of their books.
Although some people may be put off by technology, online accounting systems are actually designed to be very simple to use. Financial information can be uploaded automatically through electronic files or even scanned directly into the system. This can dramatically reduce the time it takes to enter data.
The information is stored and analysed in the system and small-business owners can look at key reports (eg outstanding bills, outstanding invoices) anytime, anywhere, from all devices that can launch an internet browser.  
Not only are these systems a cost-effective option for businesses, with a pay-as-you-go model, a growing range of customised solutions delivers vertical market specific bookkeeping to add further value.
Don't throw the book at bookkeeping – business owners should embrace technology and stay on top of the books!
Blog provided by Barbara Kroll, managing director of online accounting services provider Twinfield UK.
Further reading