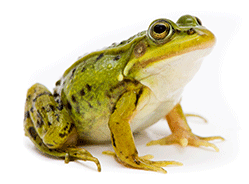 Would you be interested in working harder and smarter on your business if you knew that it would be very easy to do better than 80% of the people in your sector?
Factually, right now, about 60% of the people in your sector are only doing OK and 20% are struggling. This means that by stepping up and standing out, you could be in the 15% that are doing very well and if you really excel, you could be in the 5% that are exceptionally successful.
So how can you achieve this? 
1. Think big
Most people think small and therefore play small; there is less competition for bigger goals. You just have to act with courage. So whatever you're thinking about doing right now, what would a goal that was ten-times larger look like? 
2. Build a database
Obvious and not news, but you need to recognise at the start that this is your business's most useful asset, so spending some time at the start thinking about what information you need and how you plan to use it, will be time well spent once your business is up and running.
3. Stop being a "doer"
Instead, be a marketer of your business. The most successful business owners market their business in equal or greater measure to "doing" within the business. Every interaction you have going forward is an opportunity to market yourself. Use every opportunity. 
4. Deal with "the frogs"
Most new business owners are procrastinators who don't spend the time doing the stuff they really to do to make their business successful (the frog!). Deal with the thing you need to do first thing in the morning, to make your business successful and then get on with your day. (Clue – if it isn't generating sales or marketing related, you're still doing the wrong thing!)
5. Follow up
It is not your customers' responsibility to remember to come back to you, it's your job to remind them you exist. And don't give up. Regular contact will bring you business, but in some cases it might take years to land a target client.
6. Deadlines
I once heard a brilliant marketer say he had a mantra – "If I had to do X by Y or else I would die, could I get it done?" I've never missed a deadline by using it. 
Blog supplied by Anne Mulliner, author of Empowered! – How to change your life in your coffee break (RRP £12.99 Panoma Press). She is an award-winning executive coach and leadership development expert, who works with clients all over the world, sharing her passion for getting them to access their full potential. For more information visit http://www.jdicreativesolutions.co.uk/
Further reading