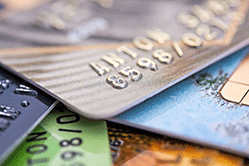 In recent years, electronic payments have grown in popularity along with the demise of the cheque and fewer consumers carrying cash in their wallet or purse. Card payments have become the preferred method for payments, with shoppers expecting small businesses to accept debit and credit card transactions in a physical (ie offline) environment. The need for secure online payments has also grown as more merchants look to ecommerce services in a bid to drive sales.
E-commerce is becoming more accessible and affordable for even the smallest businesses, and complete end-to-end solutions for web design, shopping carts, online security and even virtual terminals are available in this increasingly sophisticated marketplace.
Fixed or mobile chip and PIN acceptance is ideal for physical trading environments, such as retail, hairdressing, accounting, hospitality and other business that processes transactions. For tradesmen on the move there is a whole host of new innovative mobile related payment technologies that are rivalling cash.
Methods range from devices that attach to a mobile phone and are capable of accepting card payments, to the digital mobile wallet and a portable chip and PIN device that runs off GPRS. All of which allow companies and sole traders to receive payment for goods and services on the spot.
When selecting a payments provider, merchants should consider options other than their bank. An independent supplier is more likely to offer a cost effective solution, along with support and benefits. What businesses need to consider is what method would best suit their customer base. And what methods is their customer base familiar with and happy to use.
Innovative digital payment options are great when it comes to the younger tech savvy customer, but merchants must also consider more mature shoppers. Overall security and industry requirements are a top priority and must be thought about when deciding on a digital payment method.
When selecting a payment option, SMEs should work with a third party that can provide not only the technology – online or physical – but guidance and a transparency of capital costs and fees, both monthly and annual. What many small business may not realise is that there are other options available to merchants that are more beneficial than simply using their personal bank.
Whichever payment method is selected, if an SME trades in both a physical and online environment, by joining up their payment offering they can gain an overall picture of transactions and the customer, which provides valuable insight for business decisions and strategy planning.
Blog supplied by Gareth Poppleton, managing director at Retail Merchant Services.