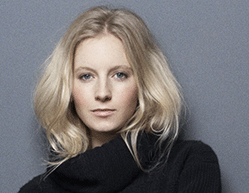 I understand all too well the trials and tribulations of setting up a new business, which is why I agreed to become an ambassador for Britain's Top Real Role Model 2014. The annual competition, launched by direct selling company Amway UK and now in its fourth year, is dedicated to encouraging new talent amongst the nation's entrepreneurs.
Amway UK has already handed a total of £20,000 in funding to entrepreneurs for the business ventures they presented, but we now need a new wave of creative bravery in business to generate success and employment opportunities.
Recent research carried out by Amway UK suggests that more than two-thirds of us would prefer a female boss to a male one, with the stereotypically female attributes such as compassion, trust and loyalty coming out on top. These 'softer' attributes were favoured over more traditional ones such as courage, confidence and strong leadership.
I think this is a very interesting shift in attitudes. I feel that female bosses tend to have a slightly more '3-D approach' to business and see the whole picture. They also tend to care more about their employees, which helps get the best out of people. You don't have to scatter people out of your way to be successful.
Starting up your own business and backing your ideas can be very lonely and takes a lot of courage so it is crucial that we support fledgling companies. I can't wait to see the finalists' ideas and share their enthusiasm and energy. I have been fortunate enough to have people around me to encourage and share my dreams.
I ran Twenty8twelve with my sister Sienna for seven years, in what is a notoriously fickle and unforgiving industry. You need a bit of steel to go with the creativity, but it is important to be a good boss, as well as a good designer. Having Sienna in the business was an amazing help because of the profile she has. We made a good team, because she has incredible style and she forced me to take risks.
My current label, Savannah, is about finding out what my customer wants and meeting her needs. I've kept true to my mantra of providing style at an affordable price point.
I am a driven person because I love what I do, but I have space for other people and I don't think you can run a business without understanding what makes your staff tick as human beings. I was brought up to believe that if you wanted something, you had to work for it.
So, my advice to would-be entrepreneurs is to roll your sleeves up, be prepared to start at the bottom, but once you have employees, let your softer attributes come to the fore – trust and loyalty can go a long way.