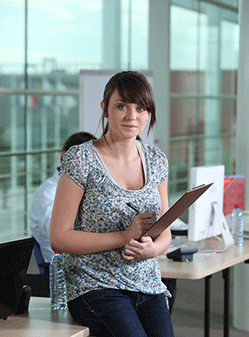 I co-founded the cleaner-booking platform Mopp in April 2013. For us, hiring interns (ie a student or trainee who works in order to gain experience or satisfy requirements for a qualification) has been a great way to help grow the business while staying lean. But how do you find great candidates and motivate them to really contribute to your business?
DO
Write a standout job ad. Show you're offering an opportunity to shine, not just do the grunt work. We've made statements such as: "This is an awesome opportunity to really make a difference. You will not just be a cog in the machine, we really want you to show us what you can do."
Try different sites. We've used Workinstartups, Internwise, and UKStartupJobs, which were great. Inspiring Interns, a specialist agency, is another option, but you'll need to pay them as well as the intern.
Set them a test. Before we hire an intern we always ask them to submit a piece of written work (if it's for a content role) or test their phone skills if we need them to be confident on the phone. At the end of the day they will also play a role in representing your business, so you need to be sure they are up to the job.
Consider apprentices. Depending on your business, this is a low-cost option that could be great, as long as you have the time to train them. We've used JustIT and have some great young apprentices on our team.
Set targets. Give your interns real projects to own and set them targets. We track our interns' results weekly, from PR leads generated, to blog posts written, to social media traffic generated. It helps them focus and feel motivated to excel.
Involve them. Make them feel a part of the business you're building. Our interns are involved in everything – from company socials, to team presentations, to planning the new office design.
Teach them. Taking the time to teach your interns new skills will motivate them, while taking the burden off your staff. We do a one-hour training session once a week on topics from Google Analytics to search engine optimisation.
DON'T
Be too busy to manage them. If nobody has time to manage your interns, they won't grow in skills or confidence – and they won't be able to bring value to your business.
Expect them to know everything. Hire people with the ability to do the job, but teach them the skills so they can develop into an indispensible team member.
Micro-manage. Allow your interns the room to solve their own problems. It's the best way to learn – otherwise you will end up doing all their work yourself.
Undervalue them. This is an obvious, but important, one. You can get some really bright, enthusiastic candidates that in the right environment can be real assets to your business. Just make sure they don't feel like all they're doing is making the teas and coffees.
Blog written by Pete Dowds, co-founder of cleaner-booking platform Mopp.