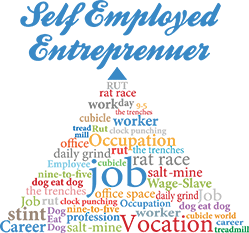 The recent publication of Just the job - or a working compromise? The changing nature of self-employment in the UK by the Resolution Foundation (RF) offered a revealing glimpse into the world of self-employment in post-recession Britain.
RF is an independent think-tank that seeks to "improve living standards for the 15m people in Britain on low and middle incomes". The findings of its report will prove less than inspiring for those considering self-employment, with the startling revelation that self-employed workers, on average, earn a measly 60p for every pound earned by employed people (in other words, 40% less).
Falling income
Despite ever-increasing living costs, average self-employed earnings have fallen by a punitive 20% since 2007, compared to 6% for other employees. And, of course, many self-employed people don't get sick pay, nor paid holidays or days off, despite taking responsibility for generating their own incomes.
So, why have self-employed incomes fallen so dramatically? Well, because of uncertainty and austerity since 2007/08, many self-employed people have probably thought it unwise to increase their prices, despite their own rising costs. Another reason is a reduction in work hours, a consequence of reduced demand and greater competition (ie more self-employed people).
Perhaps interestingly, it seems that many more 'sisters' and now choosing to 'do it for themselves'. There has been a marked increase in the number of self-employed women in the UK, having risen from 27% (or 970,000) in 2005 to 30% (or 1.29m) in 2013.
Go figure
Office for National Statistics figures show that between Q1 2013 and Q1 2014, the UK's self-employed army increased by 375,000 to reach 4.55m (15% of the total workforce). But according to RF, self-employment has been growing steadily since the early 2000s, it's not simply a consequence of recession and redundancy, but a matter of choice for many.
A survey conducted by Ipsos MORI for the RF report suggests that 73% of those who've become self-employed in the past five years have done so mainly or partly out of personal preference.
More people are now choosing self-employment, with fewer people heading in the opposite direction (including many more older people who can't afford to retire completely). One-third of the part-time self-employed are aged 60-plus.
Interestingly, RF's research suggests that the self-employed are now much better educated as a group, with many operating in service sectors, rather than manual trades, as previously.
Matter of policy
RF chief executive Gavin Kelly, says: "Self-employment is often a highly precarious existence, which isn't that well supported by public policy. High levels of self-employment seem likely to be here to stay and policy-makers have some catching up to do."
Only 30% of self-employed people contribute to a pension, compared to 51% of employees. And, according to RF, a minority of self-employed people are "experiencing difficulties getting mortgages, tenancies and accessing personal credit and loans, due to being self-employed".
According to RF: "For too many self-employed people, [housing and credit] are difficult to access, with many poorly positioned to cope with unexpected financial demands and retirement. Reform of the mortgage market, the pensions system and the introduction of Universal Credit should take into account the needs of this ever-growing group."
Blog written by Start Up Donut editor Mark Williams.