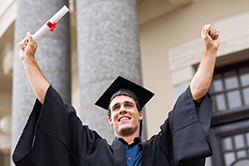 Recently there has been a surge in the number of graduates choosing to work for themselves as soon as they leave university. Rather than becoming employees they are choosing self-employment. Armed with their entrepreneurial skills they are turning their talents and passions into businesses, the most popular of which being website design and mobile app development.
It seems graduates are plagued by gloomy thoughts of leaving higher education to compete for the restricted number of jobs available. The latest graduate unemployment figures from the Office for National Statistics showed that around 9% of recent graduates were out of work, while a significant 47% were forced to take 'non-graduate' jobs after leaving university.
So, with this in mind it's no wonder start-ups are on the increase, after all, who wants to job hunt when you can be your own boss so easily, especially with advancements in mobile and online technology, which allows you to start and run businesses from anywhere.
Small-business owners can now tap into a global marketplace of highly skilled freelancers and run a flexible workforce, with flexibility to hire more staff on a temporary or one-off project basis without the overheads or office space requirements that come with taking on employees.
With that in mind there really has never been a better time to start a business, and it seems Britain's young graduates are doing just that with the number of recent graduates registering as freelancers or micro-business owners increasing by 97% in the last twelve months. The number of male graduate entrepreneurs was up 110% and female graduates up 94%.
Considering the average cost to start a business from scratch is £632*, for a graduate leaving university with little or no start-up funds, the prospect of going it alone doesn't feel as daunting as the days when you had to ask your local bank manager for a business loan. With low start-up costs and armed with all of the tools to get a business off the ground, the graduate entrepreneur is here to stay.
* Statistic from a recent survey of 1,000 start-ups by PeoplePerHour
Blog supplied by Xenios Thrasyvoulou, founder and CEO at PeoplePerHour (@PeoplePerHour)