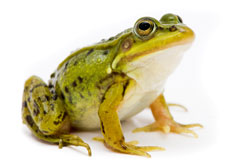 Governments and blue chips think they're talking and marketing to smaller or owner-managed businesses, but they're not. They don't know how to talk to owner-managed businesses. They don't even realise that small businesses have a separate language and way of being.
There are more than four million small businesses in the UK and they employ 12 million people. All of my qualitative research shows that owners of the so-called 'small and medium-sized' businesses feel ignored and sold to in an insulting manner.
Small businesses are not the same as big businesses and they do not make purchasing decisions in the same way. Small businesses are small by choice.
Meanwhile, corporates assume that a small business is just a little big business. Wrong. Frogs are not the same as small crocodiles. They do not have the same mindset.
Most advertisements focusing on the small business market, from banks, IT, software, HR service providers, etc do not communicate with small businesses - they are not creating (or even attempting to create) a relationship or demonstrating values important to their target customers. Most ads aimed at the small business are relatively ineffective because the ad agency fails to understand the needs and wants of their target.