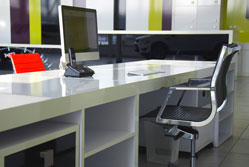 Operators and landlords will do their utmost to ensure they get the best possible deal from the start of a contract term. When you rent a traditional office space you'll often be bound to an agreement for around three - five years. Therefore, if you sign up for services and facilities on a whim, it could affect your business for a very long time.
If you're currently on the hunt for suitable premises or if you're about to sign a contract, you could save some money by following these simple steps.
Find businesses that are subletting
It may seem unethical to benefit from someone else's misfortune, however, business is business and if it means you'll get a better deal, don't let morality take precedence over your decision. Businesses that have signed long-term lease agreements will often sublet if they have to downsize. According to Inc.com the average subletter will lease their property for 25% cheaper than the usual asking price.
Share your space with another business
Nowadays it's not uncommon for businesses to share a lobby, reception area, kitchen and recreation room. Consider splitting the costs with another business to get a better space at a cheaper price. If you manage to find a business that works within your sector, but isn't a direct competitor, you could also share clients and create an informal partnership.
Check the square footage
You'll be surprised by how many people sign contract agreements without checking the square footage. Don't take the operator or landlord's word or "approximate guess" as gospel. Measure the square footage of the space to see if it matches what's stated on the contract. If it doesn't, negotiate a better price.
Negotiate a cap on annual rent increases
This is especially important if you lock yourself into a long-term contract. Landlords will often add clauses to contracts that allow them to raise their prices with inflation. If you've signed a long-term contract agreement this could be difficult to get out of. Don't sign anything unless you have a written agreement stating that rental prices will remain the same.
Make sure you can sublet the space
If you aren't hiring the space off another business that's subletting, make sure you have the option to sublet yourself in the future. If you want to downsize your business or move to a larger space, but still have to honour the contract agreement, it's not worth paying the extra costs. Subletting will allow you to lease the space to other businesses so you won't have to pay for an office that you aren't using.
Use a serviced office instead
Serviced offices may seem more expensive, but if you only need premises on a short-term basis, there's no better way to cut down costs. A serviced office comes with everything set up and ready-to-use, meaning you can move in and out without disrupting the flow of business. In addition, contracts are highly flexible and can last for as little as one month.
Renting office space is a scary concept and any wrong move or overlooked aspect of the contract could result in excessive fees. Thoroughly read the contract and ensure you understand all of the terms before you sign or pay the deposit.
© James Timpson, writing on behalf of Skyline Offices, London serviced office specialists. James is a freelance blogger, writer and wannabe-entrepreneur. You will find him at tech conferences throughout the UK and Europe.
Further reading